Concerned about the Coronavirus? Contact us to discuss our new FREE CANCELLATION POLICY & book with peace of mind Contact Us
Winter 2019 has been amazing for Alpine French School… here's why
We have had a fantastic winter here at Alpine French School, not only because the weather has been amazing and the skiing fantastic but also because we've seen some great progress in our students. We've had great attendance on our learn French and ski courses making this one of our most successful seasons yet.
New building
We moved into our brand new school building just before winter and it has been a great success. We've got more space, brighter classrooms, better facilities and all in all it has been a huge hit! You can find us now just over the big suspension bridge in Morzine, about a 10 minute walk from the town centre. We have a number of classrooms which are perfect for private French lessons and also intensive French courses. Whether you're learning by yourself or with a group, our bright and airy classrooms will certainly help you enjoy your lessons more.
Great attendance on our courses
Our courses that combine learning French with snowboarding or skiing have been really popular this year as well and we're excited to run them again for winter 2020. People from all over the world came to visit this year staying either with host families or at some of our specialist accommodations. The best thing about our "learn French and ski" courses is that you can be on the mountain in the morning enjoying the amazing conditions and head down into town for your lesson at the end of the day. You'll also have the opportunity to put your French to the test as you explore all of the things the Portes du Soleil has to offer from restaurants and bars to over 600km of pisted slopes.
Social and cultural programme success
This year we introduced a brand new programme at Alpine French School and we're pleased to report that it's been a fantastic success. The social and cultural programme was an opportunity for students to learn French in a different more practical environment. Whether it was during a French cooking class or dinner with a local family, it was a great way for students to hear the language in context. Some people benefit from non classroom based activities to further their language learning and we have found this a really effective and fun way to do that! There's more of the same to come next year.
Amazing winter conditions
As well as all of the success at Alpine French School we're pleased to say that winter 2019 has also been a bumper season because of the fantastic conditions on the mountain. Anyone enjoying our courses that combine learning French with skiing and snowboarding will have had brilliant holidays. The snow has been plentiful and there's also been lots and lots of sunshine to go alongside it. Half term was full of sunshine meaning that all of the families we welcomed to Morzine had brilliant holidays and went home wth huge smiles on their faces.
French Summer Camp plans
We're now looking forward to the summer and our fantastic French Summer Camp. We're expecting youngsters from all over the world to visit this year and enjoy everything that the Portes du Soleil has to offer in the summer season as well. We're busy perfecting the plans, activities and menus for this year's camp and promise that it'll be our best year yet!
---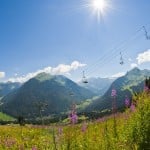 So we are out of lockdown in the UK and in France and people's thoughts are turning to their summer holidays. After so long stuck at home during lockdown, many people are looking forward to taking a holiday either in their own country or overseas.  If you are thinking of…
Continue Reading
---
---
---
---