Why we love teaching you French
We are passionate about what we do and we absolutely love teaching you French, especially here in Morzine. Watching students progress after attending one of our French Intensive courses is hugely rewarding. We think the enthusiasm and energy we see from our teachers is testament to this. These are the reasons that we love teaching you!
No students are the same
We walk into the office and are lucky to be greeted each day by different smiling faces. It's the most sociable job in the world. Whether you're embarking on a French Intensive course with us or you're at the school to have a private lesson we always look forward to seeing you. Every single student learns in a different way, has different questions to ask and makes different progress. We love to see you conquer the things you've been finding difficult and we absolutely love to help you get there! The best thing about teaching is having to tailor what we do to suit you. You keep us on our toes because no students are the same.
Watching beginners move to intermediate level is fantastic to see!
Some students have been coming to us since speaking their very first "bonjour" and there's nothing better than watching them progress to the next level. Perhaps when you started with us, you couldn't string a sentence together in French. But now, after a French Intensive course with us, you're holding conversations! We love nothing more than seeing you get better and achieve things you perhaps didn't think were possible when you first started out. It's hugely rewarding for us and we think it's pretty rewarding for our students too.
We love being able to help you conquer the difficult world of French paperwork and seeing the results.
Living in France can be tricky at times, there's a lot of paperwork to do and it's pretty complicated stuff. It's especially complicated if you don't speak the language. As well as helping you to learn French, we're also on hand to offer you advice, help and guidance when it comes to administrative tasks for your personal life or for your businesses. We love helping you to conquer this difficult world and it's very satisfying to see someone complete a task they've been struggling with. We also love to see you conquering the system for yourself once you get your French to the next level!
We love watching you go "back to school"
Watching students walk into Alpine French school for the first time is like watching a group of 11 year olds go to big school for the first time. There are the first day nerves, the fear of what's to come, who your teacher will be, whether there will be any other nice students on your French Intensive course… we know the answers to all these questions of course and love seeing you relax as you sit in your chair for the first time and realise it's not going to be as bad as you thought at all, in fact it's going to be super fun! The first day is always the best for us as we get to know you for the first time. We also love the last day as well because we get to see how far you've progressed!
---
---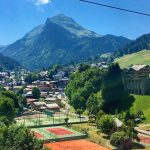 Being in September and easing into interseason work, the AFS team wanted to reflect on summer 2022, and what a summer it has been! Following our extremely successful juniors summer day camp, adult intensive group courses as well as weeklies and private lessons , we are pleased to have…
Continue Reading
---
---
---
---