Concerned about the Coronavirus? Contact us to discuss our new FREE CANCELLATION POLICY & book with peace of mind Contact Us
WHAT'S NEW FOR WINTER 2018-9?
Winter Social Activity Programme 2018-9
French Intensive Course
We are always striving for new and exciting ways to assist our students with their progress on learning French, and what better way than doing what the French do best?…….. cooking and eating great food, with fantastic local ingredients, tasting amazing French cheese and wine, alongside remarkable French conversation. Let's not forget about the skiing part too!
We have been working closely and exclusively with our partners and friends Carol (a French teacher) and Fred (a chef) to design an unforgettable week for your stay in Morzine where each night you are invited to join them and your fellow students for the evenings event. They have kindly offered an "open house" for 2 of the evenings where you can experience a true French feel as the event will be held in their own home.
The Winter Social Activity Programme will be launched this Winter 2018-9 and will run alongside our French Intensive Course. The evening Social events will be offered (Tuesday to Friday) as an additional programme to sit alongside your Intensive French Course. They have been carefully designed and tailored to ensure that you will be able to maximise your French speaking and listening skills, your cooking skills and your knowledge of local French produce, as well as being able to practice all these skills in a live, yet safe environment. Did we mention not forget about the skiing part too?!
Please check out the link below which will allow you to decide which evenings you would like to be part of.
Activity Programme Winter 2018-9
•

Small group sizes with a maximum of 10 students in our Intensive French Course

Focus on communication and dialogue with lots of conversational interactive activities

Use of the French language in real-life situations

Ski or Snowboard every day!

Work on relevant vocabulary & pronunciation to increase your ability to express yourself in French

Available for all levels from Beginner to Advanced

10h or 20h per week: 2h or 4h per day, 5 days each week

Learn French + Ski packages

 available!
---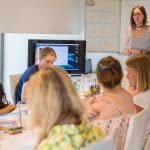 Most of us have more time in the autumn inter-season to do things like work on our French before the winter season.  Alpine French School is offering a range of courses to suit all levels, budgets and availability.  Read on for more information and don't hesitate to contact us by…
Continue Reading
---
---
---
---