In this time of uncertainty, planning your summer holiday is proving really difficult.  However after spending so long in lockdown at home, we are all keen for a change of scene!  The leaders of most European countries have now agreed that they will let people travel within Europe for holidays without quarantine and we are just waiting for Boris Johnson to confirm the proposed air bridge between the UK and France.  This should be confirmed by June 29th 2020 at the latest with quarantine being ended on July 4th 2020.
Alpine French School has been working on providing Summer French Courses and French Summer Camps that respect government health and safety guidelines while providing a fun environment for adults and children to learn French and take part in some great activities. We have a strict protocol for all students that will keep them safe but won't stop them from enjoying themselves and having an amazing time!  Our traditional format of French lessons in the morning and fun activities in French in the afternoon will run this summer.  We will be running:
Morning French Lessons for children 6-17 years of age
French Day Camps for children 6-17 years of age (morning French lessons, picnic lunch + afternoon activities)
Family French Camps with French Intensive Courses in the morning for parents and children and the option of activities in French in the afternoon
Adult French Intensive Courses
Accommodation in individual apartments/chalets, hotels or apartments shared with other students
Morzine is the perfect place for a summer holiday at this unusual time.  We are in an area of France with a low population density meaning that social distancing comes naturally!  The resort's infrastructure, shops, bars, swimming pool, tennis club, restaurants and activity providers have been working hard to put in place health and safety measures to keep everyone happy and healthy during their time in Morzine.  There are numerous outdoor options where social distancing comes naturally such as sunbathing and swimming in mountain lakes, hiking in the breathtaking Alpine scenery, dining in mountain restaurants, visiting local places of interest…..
Morzine offers a wide range of holiday accommodation to suit all tastes and budgets.  Self-catered apartments and chalets are an obvious and popular choice for this summer and all of the Morzine companies have put into place special deep-cleaning and disinfecting cleaning protocol between each group of guests to ensure the safety of all clients.
If you aren't keen on flying, Morzine is easily accessible by car, just an 8-hour drive from Calais so you can take the Eurotunnel from the UK and self-isolate on your way down.  For travellers from other European countries, Morzine is centrally located in Europe so easy to drive to.  If you are happy to fly, then Morzine is just over an hour from Geneva airport.  Alpine French School can arrange airport transfers or you can book a hire car.
Read more about our 2020 Summer Camps here
Why not enquire now and find out if our French Summer Camps and French Courses for Families would be the perfect fit for you so that you're ready to book once your country is given the green light!  You can email us on juniors@alpinefrenchschool.com to find out more information and ask any questions you may have.
---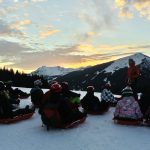 Planning a trip to Morzine this Winter? We decided to ask our members of staff at Alpine French School what they would recommend to a first time visitor to the area. As many of them have lived and worked in Morzine for years, they know the best spots to warm…
Continue Reading
---
---
---
---