Concerned about the Coronavirus? Contact us to discuss our new FREE CANCELLATION POLICY & book with peace of mind Contact Us
Use your CPF Training Budget with Alpine French School
In 2015, the French government made a sweeping change to their Training Budget System that affects everyone in France for the better! Previously, all French employees were able to benefit from a training budget called the DIF (Droit Individuel à la Formation). This meant that via their employer, they were able to ask for a training budget to pay for their professional training including French/English language lessons.
In 2015, the system was changed so that everyone in France has their own personal training budget that 'follows' them for life. You accrue hours by working, but then if you change jobs or are unemployed, these hours stay with you and can still be used for training courses of your choice. So you no longer need your employer's agreement to use these hours. And if you are only on seasonal contracts, you still accrue these hours to be used for your own training.
One of the only constraints is that the training course you choose, has to be a certified training course, i.e. it has to end with an exam. Alpine French School is now a fully registered Cambridge Language Testing Centre for English and French so we are able to offer certified training courses for these languages to enable you to use your CPF budget to improve your language skills.
There is no money to advance, the government fund the training for you upon approval of your budget. We organise your budget for you so that you don't have to worry about the complicated French system which has been put in place requiring lots of documents and paperwork!
So what this means in reality is that hundreds of people who previously were unable to access a training budget to take French or English lessons will now be able to do so. You need to have worked on a French contract to acquire some hours to start with, but after this, you are entitled! If you are interested, then contact us to find out more and start the process: info@alpinefrenchschool.com
---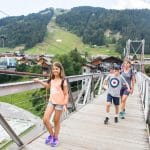 We were fortunate to be able to run French Summer camps in 2020 despite Covid complicating international travel.  Life in Morzine, like elsewhere in the world, has changed in the last 6 months.  However because the majority of Morzine's activities take place outdoors, we are very lucky that life has…
Continue Reading
---
---
---
---