University credits & qualifications
ECTS credits – European Students
European Credit Transfer and Accumulation System (ECTS) is a standard for comparing the study attainment and performance of students of higher education across the European Union and other collaborating European countries. For successfully completed studies, ECTS credits are awarded. One academic year corresponds to 60 ECTS-credits in all countries irrespective of standard or qualification type and is used to facilitate transfer and progression throughout the Union.
Alpine French School's courses may be transferred to ECTS credits.  To arrange this you need to contact the French department at your university before starting your course with us.  They will provide you with detailed information of how to arrange your credit and then we will provide all documentation required.
American Students
American students who would like to use their course with us to receive credits towards their American university course should contact the French department or the study abroad department of their university to ask for further information about how to arrange this.  We will then provide all documentation required by your American University.
CSN for Swedish Students: Financial Aid for Studies
Students from Sweden can apply for financial aid for post-secondary language courses abroad through CSN, the Swedish Student organisation.  Please contact us for further information about the grants available to you or visit www.csn.se
German Students: Bildungsurlaub
In Germany, the institution of Bildungsurlaub allows employees from any sector to apply for up to an extra 5 days of educational leave per year that are to be used for professional advanced training which can be cumulated to make 10 days over 2 years. Intensive language courses have become a popular option for Bildungsurlaub as it allows employees to travel and advance their foreign language skills abroad.

DELF, DALF, TCF (Internationally Recognised French Diplomas)
DELF (Diplôme d'Etudes en Langue Française) and DALF (Diplôme Approfondi de Langue Française) are official qualifications awarded by the French Ministry of Education to certify the competency of candidates from outside France in the French language. DELF and DALF are composed of 6 independent diplomas that correspond to the levels of the Common European Framework of Reference for Languages.
The TCF is the French language diploma awarded by the French Ministry of Education.  It assesses the level of a person's French language for general purposes.  It is intended for people who are not native French speakers and who, for professional, personal or academic reasons, wish to have their competency in French assessed and certified simply, reliably and quickly.  It is required to obtain French citizenship and it can be useful if you plan to work in a French company, in a French-speaking country or for an International Organisation.
---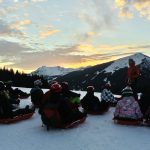 Planning a trip to Morzine this Winter? We decided to ask our members of staff at Alpine French School what they would recommend to a first time visitor to the area. As many of them have lived and worked in Morzine for years, they know the best spots to warm…
Continue Reading
---
---
---
---