Travelling to Morzine Summer 2020
So we are out of lockdown in the UK and in France and people's thoughts are turning to their summer holidays. After so long stuck at home during lockdown, many people are looking forward to taking a holiday either in their own country or overseas.  If you are thinking of coming to France, maybe the French Alps and maybe to Morzine then read on….
The end of quarantine
The UK and French governments have agreed to an air bridge or a travel corridor between the two countries meaning that no quarantine is required when entering either country and no documents are needed to prove that your journey is essential. This means that if you want to travel from the UK to France for a holiday and back, then you can do this with no need to present any documents or to go into quarantine.  You can travel freely between the 2 countries.
Getting to Morzine
If you feel uncomfortable about flying, then you could consider driving to France.  You can take the Eurotunnel and stay in your car throughout the whole journey.  Morzine is 8 hours' drive from Calais so you can do the journey in a day from the UK.  And then you have your car when you are in Morzine to explore some of the great places in the local area.  If you feel happy about flying, we can organise transfers with Covid rules in place to get you from Geneva airport to Morzine.
Summer 2020 in Morzine
Once you arrive in Morzine, you will quickly see that life in Morzine in Summer 2020 is extremely pleasant!  Since Morzine isn't densely populated like larger towns and cities, and that most of the activities on offer take place outdoors, social distancing comes naturally.  Most bars and restaurants have large terraces and gardens so we have been eating out without being inside at all.
What is open in Morzine?
Bars, restaurants and cafés are open with plexi glass and waiters and waitresses wearing masks.  The shops are open with recommended or obligatory mask wearing.  The ski-lifts are open with social distancing on the lifts and in the queues for mountain biking and hiking and exploring the mountains.  Tennis courts, swimming pools, adventure parks, skateparks and all other outdoor activities are open in addition to the indoor ice rink.  You can select activities that you feel comfortable with and many restaurants offer take-aways if you would rather eat at your accommodation.
Where can I stay?
If you are worried about being surrounded by others, Morzine has several companies and agencies offering a wide range of self catered chalets and apartments with a huge choice to suit all budgets.  Companies have strict cleaning protocol for changeovers between guests to ensure the health and safety of all clients.
Follow us on Facebook or Instagram for regular updates of Summer life in Morzine this summer!
---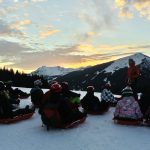 Planning a trip to Morzine this Winter? We decided to ask our members of staff at Alpine French School what they would recommend to a first time visitor to the area. As many of them have lived and worked in Morzine for years, they know the best spots to warm…
Continue Reading
---
---
---
---