* Book now for Winter 2023 at last year's prices - from just 199€ per week for an Intensive Course! * Enquire Now!
The 'C' Word – What are the COVID rules for French ski resorts this Winter?
After 2 years of obeying rules and restrictions, we have all our fingers (and toes!) crossed for a normal Winter. We are excited to welcome our international students and get on the slopes! However, in order for everything to run smoothly, we all need to be sensible and continue to follow the rules.
You may have seen recently in the news that those entering Switzerland will need to quarantine for 10 days. However, we have recently received confirmation from the Swiss government that those travelling to Switzerland who are transiting to another country (for example, to France)  within 24 hours DO NOT need to quarantine (good news!). However, they will have to show proof of their onward travel, for example a transfer or hire car booking.
Furthermore, France has also implemented new rules stating that all travellers outside of the EU must present a negative COVID test, whether they are vaccinated or not. For vaccinated travellers, the negative test (either PCR or antigen) must be completed within 48 hours, while for non-vaccinated travellers it must be completed within 24 hours.
In France, more than 80% of people over 12 years old have been vaccinated, which is a promising statistic considering the EU average is 67%. The Prime Minister, Jean Castex, recently released information about regulations this Winter, with specific rules for ski resorts:
The pass sanitaire is not obligatory on ski lifts unless there are 200 confirmed cases per 100,000 inhabitants. At present, the cases have gone above 200, therefore, the pass sanitaire is required on the ski lifts.
Social distancing is required during lift queues.
Masks must be worn in gondolas and cable cars but can be removed on open chairlifts.
You do not need to wear masks when in the open air or whilst skiing.
Some hotels will have their own rules, with masks being compulsory in communal areas.
Ski resorts must obey all national measures.
It is important to note that a health pass (pass sanitaire) is required to enter venues such as bars, restaurants, cafés, leisure centres, cinemas, and theatres. If you are coming from abroad, the pass sanitaire is also needed for long distance travel. At the Alpine French School, we also need to see your pass sanitaire, which includes either proof of vaccination (both doses) or a negative PCR Covid test taken within the last 24hours. This health pass is compulsory for all people over 12 years old in France. You can download the app Tous Anti-Covid to import your international vaccines, so that you can show your QR code when you enter establishments where the pass sanitaire is required.
For children over 12 years of age who are not double vaccinated, Morzine is setting up a testing centre where teenagers will be able to get daily tests if required.
We are looking forward to welcoming our international students this Winter and thank you in advance for your compliance to the ever-changing COVID rules. We are ready for a safe and snowy season!
---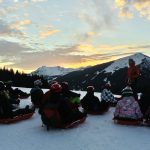 Planning a trip to Morzine this Winter? We decided to ask our members of staff at Alpine French School what they would recommend to a first time visitor to the area. As many of them have lived and worked in Morzine for years, they know the best spots to warm…
Continue Reading
---
---
---
---