The benefits of learning French in older age
You're never too old to learn a new skill despite the fact the idea may feel a little daunting. There are loads of benefits that come with putting your brain to work and we're pretty sure you'll notice a huge difference in your mood, positivity and general alertness when you do. If you're struggling to decide which skill to try, why not consider learning French? There are so many reasons why learning a language is a good idea especially if you're looking for a new challenge. You could book on an intensive French course with us this summer to really give your brain a workout. Here's why we think it's a great idea:
Good for the brain
The main reason why learning a language in later life is a good idea is the direct benefits it has on your brain. It's effectively like giving your brain a regular workout. Using your mind in a different way helps it to get stronger and quicker. You're generally slowing down the ageing process. An intensive French course with us is like a boot camp for your brain. You'll quickly notice the benefits with improved recall, alertness and concentration.
Sociable
Perhaps you are retired and miss getting out into a workplace environment and the sociability that comes with it. Not only does learning a language help the brain but it's also great for meeting new people and making new friends. On an intensive french course with us you'll spend over 15 hours in one week with the same group of people and you'll really get to know them. You'll also have some common ground and experiences to share meaning you'll always have something to talk about. Many people who meet on courses at Alpine French School continue to meet up after the lessons are finished to carry on improving their language and to practice with each other.
Makes you feel young
Education has a real way of making you feel young again. Who knows whether it's all the memories of going to school that come flooding back or whether it's just the idea that you're a student again but it somehow helps you to feel like you did in your teenage years. You'll noticed a renewed energy, excitement to learn and will generally notice a spring in your step. You'll get the "first day of school" nerves, you'll feel anxious when you put your hand up for the first time and you'll remember what it was like to sit in a classroom.
Helps with employability
People who look for work later in life say it's often difficult to get a job. By adding a new skill like a second language to your CV you are dramatically increasing your employability. Not only does it demonstrate versatility and motivation but it also opens up a world of possible opportunities in different countries and departments. Even a basic understanding of French can help you to pip someone to the post in a job interview, especially if you're looking for work here in Morzine.
Helps with sleep problems
A common problem later in life can be finding it hard to sleep. Some find it difficult to get to sleep in an evening, others find they're waking very early each day. We've mentioned that learning a language is like a work out for the brain. Well, like when your body is exhausted, if your mind is tired, it's much easier to switch off and to fall into a deep sleep. An intensive French course will certainly give your brain the exercise it's craving to have a good nights sleep. You'll also feel the need to rest more because your brain will be in need of some down time.
---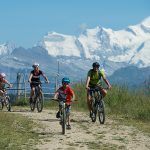 Our 'Family Camp' is one of our most popular options for parents and children to study with us during the summer season, but it's also the option that we get asked the most questions about! So we thought we'd put together a quick blog for the 'Frequently Asked Questions' and…
Continue Reading
---
---
---
---