Concerned about the Coronavirus? Contact us to discuss our new FREE CANCELLATION POLICY & book with peace of mind Contact Us
The 5 essential things to pack for a French Summer Camp
It's hard to know what to pack in your child's suitcase at the best of times, but when they're getting ready to have the adventure of a lifetime on our French Summer Camp, it's even trickier. Will they need wet weather clothing? Will they need different footwear? Do they need any sports equipment? What about games and books? As well as the obvious like pyjamas and clothes, here our 5 essential items that need to find their way into the suitcase without fail!
1: Trainers or sturdy walking shoes
Our French Summer Camp is based on the outskirts of Morzine. It's surrounded by mountains, meadows and lakes which means rocky paths, muddy trails and plenty of beautiful places to walk, run and have fun. If your child doesn't have the right shoes with them, they won't be able to enjoy all of the amazing activities and fun things we have on offer. Whether it's walking in the hills, playing football and other sports in the grounds of the fantastic summer school, mooching round Morzine or visiting some of the great sites around town, a good pair of shoes is invaluable.
2: Swimming costume
There's a pool at the summer school itself and children who come to stay with us love using it during their free time. It's a great place to make friends and hang out between lessons. As well as this, during our French Summer Camp, we take the children to several different swimming spots including the fantastic outdoor swimming pool in Morzine, the beaches of Lake Geneva and the shores of the stunning lake Montriond. Please make sure you send your child with a swimming costume of some kind.
TOP TIP: If the boys want to swim in the Morzine pool, they'll need proper swimming trunks, board shorts aren't allowed!
3: A book, magazine or music device
We love how sociable our summer camp is. The children spend hours together in lessons, during activities and during spare time, however this can get quite tiring and sometimes and bit of quiet time is needed. Please make sure you send your child with a book, magazine or music device so that if they feel overwhelmed or tired and want a moment to themselves they can use it to have some quiet time. Free time is usually used for games, swimming and making friends but occasionally it's nice to sit in the garden under a tree and enjoy a moment or two of peace with a good book or some music.
4: A wet weather coat
Usually, the weather in Morzine in the summer is fantastic with sunshine and blue skies and temperatures soaring into the 30s. However, our summer camp is based in the mountains so the weather can change pretty quickly. We often get dramatic thunder storms in the summer with impressive forks of lightning and rumbles of thunder that echo round the mountains. With these stunning displays comes heavy bursts of rain, so please pack a light wet weather coat for your child. This can be the difference between an amazing day out and a disaster!  
5: A sense of adventure
Now for the most important one… sit down with your child before they come to our summer camp and make sure they pack their sense of adventure. Yes we spend time in the classroom learning and developing our French skills but we also spend a lot of time having fun and exploring everything Morzine has to offer in the summer. Make sure they know that they'll have the chance to do some amazing activities like biking, swimming, canyoning, rock climbing and rafting. The more "up for it" the children are, the more fun they'll have. Morzine isn't just a fantastic place for a French Summer Camp, it's also an incredible place for an exciting activity holiday. Make sure your child's sense of adventure is folded at the TOP of the suitcase ready to go!
---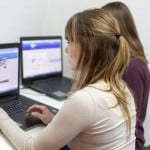 If you're thinking of ways to keep up your French or your children's French during this period of confinement, lockdown or social distancing, then you might have thought about Skype or Zoom lessons.  However, if you've never taken a virtual lesson before, then you may wonder what it's like and…
Continue Reading
---
---
---
---