* Book now for Winter 2023 at last year's prices - from just 199€ per week for an Intensive Course! * Enquire Now!
Simplifying travel in Summer 2021
If you want to travel to France from the UK this summer, read on to find all of the necessary information to make your trip as smooth as possible.
Current quarantine rules
From 9th June, fully vaccinated Brits can holiday in France this summer with no need to quarantine upon arrival in France.
Upon return to the UK, while France is still on the amber list, travellers are required to quarantine for 10 days (or 5 days if you choose to pay extra to test and release).
Travel to France:
– The UK is currently on France's 'orange' list
– This means you'll need to provide proof that you've received both vaccines (the NHS app is acceptable) at least 2 weeks before you travel
– You'll also need to provide a negative antigen test taken 48 hours before departure OR a PCR no older than 72 hours before travel.
– The children of fully-vaccinated parents aged 11 and under can also travel without being vaccinated themselves, but they must also take an antigen test and return a negative result 48 hours before departure.
Return to the UK:
– France is on the UK's 'amber' list at present
– This means you'll need to take a COVID-19 test before leaving France for your return to the UK. Morzine has the capability to provide both PCR and antigen tests, more on that below.
– You'll quarantine for 10 days and take 2 further tests on your return to the UK. You can pay for an extra test to do a test and release for a shorter quarantine.
Before you travel back to England you must:
On arrival in England you must:
You can read the full information here about travel to and from the UK: https://www.gov.uk/guidance/red-amber-and-green-list-rules-for-entering-england
Testing Facilities in Morzine:
PCR Tests (valid for 72h)
The nurse at the medical centre in Morzine offers tests without advance appointment, Monday to Friday, 8am – 8.30am and 5pm – 5.45pm. You do not have to have symptoms to access these tests, making them good for travel. Currently, test results are being returned within 24 hours. Should demand for PCR tests increase, capacity can also increase.
* The cost for these tests to UK travellers will be confirmed ASAP! (Again, if you have this info, please let us know!)
Antigen Tests (valid for 48h)
The 
Grande Pharmacie de Morzine
 offers tests between 8.30am and 9.30am and 2.30pm and 3.30pm every day. These tests are free of charge for all, but must be booked in advance (contact details below). Results are returned within 15/20 minutes. The pharmacy has the capacity to perform more tests and extend the testing times if there is demand from travellers this summer.
*Book your antigen test by calling +33 (0) 4 50 74 70 23, by email at 
contact@pharmaciemorzine.com
 or send a message to the 
Grande Pharmacie de Morzine
 Facebook page.The pharmacy at the bottom of the Rue du Bourg in Morzine also have testing available
Randox health
Randox Health offer testing packages for travellers to save money on tests required pre and post travel. More information:
Travel between EU countries
Travel is more straightforward between most EU countries.  Please check individual country information to be sure if tests are required in addition to proof of vaccination.
---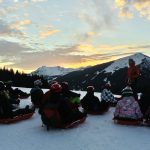 Planning a trip to Morzine this Winter? We decided to ask our members of staff at Alpine French School what they would recommend to a first time visitor to the area. As many of them have lived and worked in Morzine for years, they know the best spots to warm…
Continue Reading
---
---
---
---