Concerned about the Coronavirus? Contact us to discuss our new FREE CANCELLATION POLICY & book with peace of mind Contact Us
Seasonnaire French Crash Course
If you are doing a season in Morzine and want to learn the basics before the season starts, why not join our Seasonnaire Crash Course from Monday 10th – Friday 14th December for 2 hours per day?
This course focuses on learning the basics you need for the season, relating to the jobs and objectives of the people taking the course.
Topics can include:
simple customer service
ordering from suppliers
directions
talking about money
opening a bank account
giving prices
asking questions
simple french conversation
The course is aimed primarily at people with a little background in French.  The focus is on conversation and useful phrases and not grammar.  We want to get you speaking French and using useful phrases as quickly as possible to set you up for a great season.
If you haven't yet found employment for the season, then improving your French could help with French employers!
Contact us on info@alpinefrenchschool.com
---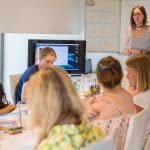 Most of us have more time in the autumn inter-season to do things like work on our French before the winter season.  Alpine French School is offering a range of courses to suit all levels, budgets and availability.  Read on for more information and don't hesitate to contact us by…
Continue Reading
---
---
---
---