Qualiopi Audit Certification Passed!
Alpine French School is pleased to announce that we have passed our audit certification 'Qualiopi'.  It is recognition of our quality processes that we have been putting in place for several years.
Alpine French School is a government approved language training centre and all government training organisations have to take a quality certification . This audit looked at all of our processes and systems including:
The information we provide about our courses, how to access our training courses and the results of our certification courses
Our administrative systems
Our enquiries team
The application process for training budgets and what happens before you start your course.
Our knowledge of the French training budget system and how we keep up to date with new laws and innovations in our field
Our quality systems and how we strive to constantly improve our services
The quality of our teaching staff, our teaching methods and materials
How we look after our staff
Our premises
How we are set up to cater for students with disabilities
How we work with our partners such as training budget organisations (OPCOs), Pôle Emploi and other government agencies
The audit took several months to prepare, refining our systems and collecting examples to show the auditors.
You can read more about the certification by clicking here.
What does this mean for our students?
Our certification means that students can be sure of the quality of any course that they take with us.  Not only the quality of teaching, but the process surrounding their course from the moment they first contact our school to the end of their course with us.
This also means that students can finance their training courses using a government training budget including their CPF.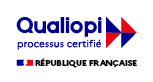 What is the Qualiopi certification ?
Qualiopi is the name given to the new National Quality Reference Scheme.  This originated from the law of 5th September 2018 and the decree of 6th June 2019 aimed to recognise and certify professional training centres who prove themselves to offer a high quality service in every aspect of their business.
To learn more about the detailed criteria, please click here:
---
Embracing the Ultimate Winter Experience: Remote Work, Solo Travel, and French in Morzine Winter enthusiasts and language learners alike are finding a haven in the picturesque ski resort of Morzine, where the combination of remote work and immersive French learning creates an unparalleled experience. Nestled amidst the snow-capped peaks…
Continue Reading
---
---
---
---