* Book now for Winter 2023 at last year's prices - from just 199€ per week for an Intensive Course! * Enquire Now!
As you will be aware, France has put into place a Pass Sanitaire to try and limit the spread of Covid.
As a business that is open to the public, the law states that all of our staff and all our clients must show a Pass Sanitaire every time they enter the building. This is a legal and obligatory requirement from 1st September 2021.
Alpine French School is obliged to scan staff and students on a daily basis to ensure that everyone has their Pass Sanitaire.
A Pass Sanitaire means that your QR code will be recognised by our Covid scanning app.  A Pass Sanitaire is a vaccination certificate.  In France, you can also get a Pass Sanitaire by having a negative Covid test or having a QR code of a positive Covid test dating less than 6 months proving that you have antibodies.
The advantage of this system is that mask wearing is optional once you are inside the building having shown your pass sanitaire.
If you don't fit into one of these categories, then you can choose to take your lessons online via Skype or Zoom which was a common solution during lockdown so our teachers are all fully trained and experienced in teaching online.  If you aren't vaccinated and haven't recently had Covid but would still like to take your lessons face to face, you can do a PCR or an antigen test less than 48 hours before each lesson.
This system is in place until 15th November 2021.  Depending on the Covid situation, this may or may not be extended.
Please contact us if you have any questions about any of this and we will be happy to help.
---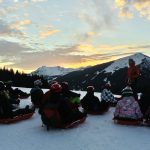 Planning a trip to Morzine this Winter? We decided to ask our members of staff at Alpine French School what they would recommend to a first time visitor to the area. As many of them have lived and worked in Morzine for years, they know the best spots to warm…
Continue Reading
---
---
---
---