'Pâques' - How do French people really celebrate Easter?
As with many European and Western countries, Easter has grown from its roots as a religious celebration into a more capitalised long weekend. Easter Monday (Lundi de Pâques) is a public holiday (jour férié) when people spend time with family or friends, shops and businesses close, and public transport runs on a Sunday schedule. 
The French love buying and eating chocolate at Easter, especially for children, and supermarkets all over France will stock huge amounts of chocolate in all different brands, shapes and sizes while artisan chocolatiers cater for a more 'gourmand' taste with beautifully hand-made chocolate based products.
In many places in France chocolate bells are sold, as the Catholic story tells that it was not the Easter Bunny who gave out presents, but magic bells who dropped treats from the sky for children, 'les Cloches de Pâques – the bells of Easter'. 
This also links to the tradition of Easter Egg Hunts in France, (la chasse aux oeufs) as the Catholic story says that the flying bells will pass on Saturday evening, meaning presents and treats for children will be ready to find on Easter Sunday morning through a treasure hunt! 
Many parents will hide chocolates for their children in the garden or home and now there are large scale 'chasse aux oeufs' organised by communes in France. In Morzine the Tourism Office will organise one that any children are welcome to participate in. 
There are still many families in France who celebrate the religious meaning of Easter by attending church on Easter Sunday. Some even choose to give something up for lent (caréme) in the 40 days before Easter Monday, such as not consuming chocolate, alcohol or meat. Then when 'caréme' ends, you can feast and enjoy eating chocolate with your loved ones. 
Easter Monday – Lundi de Pâques
Public holiday – jour férié 
The bells of Easter – les Cloches de Pâques  
Egg Hunt – la chasse aux oeufs
Lent -caréme
---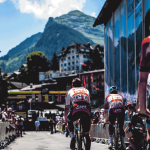 On Saturday 15th July the Tour de France will arrive in Morzine. The Tour will depart from Annemasse on Saturday morning and head towards Samoëns. From there, the riders will have to conquer the winding road to the Col de Joux Plane, at 1691 m altitude, that separates the valleys…
Continue Reading
---
---
---
---