Our French Summer Camp is in full swing, but it's not too late to book!
As I write this, we're currently in the middle of one of the busiest weekends of the year in the Morzine calendar. Harley Davidsons are racing past my window to head into the centre of Morzine to Europe's busiest Harley festival. The roads are also full of mountain bikers and cars making their way to Les Gets to watch the downhill mountain bike world championships. It's a brilliant place to be, full of life, amazing events and some great free concerts and gigs. It's also really exciting for our first week of French summer camp students who arrived in town earlier this week. They've been getting involved in everything that Morzine has to offer and it looks like they're having an amazing time. 
What is our French Summer Camp all about?
Children from all around the world come to our French Summer Camp to improve their French in a fun environment. They stay in our fully equipped residential school in the centre of a little village called Essert Romand which is on the outskirts of Morzine. As well as classroom based learning sessions, there are a host of activities for the children to get involved in. All of these activities are things you would traditionally find in a mountain town, I'll get to that in a minute! We provide food and drinks for the children for the length of time that they're with us and a great team of staff is on hand to support the students throughout their stay. Whether French is your child's first language, your child speaks it as a second language or it's just something they'd like to get better at, our camp caters for all levels and abilities. It's a great opportunity for children to make friends from other parts of the world and it's a really unique way for them to spend part of their summer holidays. 
What do the children get up to?
As well as some fantastic academic lessons in our classrooms at the school, there's also an amazing selection activities for the children to get involved in. These are predominantly for fun but at the same time give students even more opportunities to practice their French. We take them on long mountain walks exploring the beautiful alpine flowers and wildlife, we head to the stunning outdoor swimming pool in Morzine, they'll get the chance to head to the beaches on the shores of Lake Geneva, they can try rock climbing, canyoning and white water rafting and of course they'll get to explore the beautiful towns and villages of the area. 
What have the 2019 students been up to so far?
It looks like our first French Summer Camp students this year are having a blast! Our activity leaders have been keeping parents up to date with lots of photos and videos of what the children have been up to. There are pictures of the children ice skating, white water rafting, foraging along the beautiful river trails, mountain biking, singing and dancing, doing yoga, taking part in arts and craft activities and much much more. And they always have a smile on their face! We try to give the children a fun experience that they'll always remember alongside effective French lessons that will really help them to develop their language skills in the time that they're with us. 
This is just the first week of our French Summer Camps, we are running them throughout the summer to the end of August. So, if you like the look of what you've just read, why not get in touch. It's not too late to book your child onto one of our camps this year and we'd love to hear from you. We're flexible and able to accommodate various different requirements so just send us an email. Your child will have the summer holiday of a lifetime whilst also furthering their education at the same time!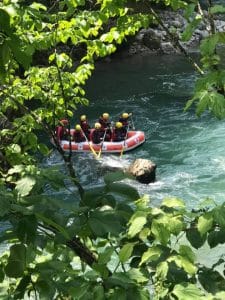 ---
Alpine French School now offers 'Services à la Personne' which means that you can use tax credits to get 50% off your French lessons.  We are pleased to be able to offer affordable high quality French (& English) lessons for people living in the local area. There is no paperwork…
Continue Reading
---
---
---
---