Concerned about the Coronavirus? Contact us to discuss our new FREE CANCELLATION POLICY & book with peace of mind Contact Us
Alpine French School have launched their new website, so why not take a look and see what you think?
On the new website you should be able to find everything you could possibly need to know about the Alpine French School from the courses they offer, summer camps, lessons, the teachers, and other activities as well as blogs and useful information. If you can't find what you're looking for on the new website, then please use the new contact page.
https://alpinefrenchschool.com/contact-us/
Navigate your way through the simple and easy to use Alpine French School landing page and then you will see the drop down selections that allow you to simply click and search the courses and titles that may be of interest to you and your journey of learning French.
The website has an abundance of important and useful tips and advice to get you started on learning or improving your French language as well as information on which courses you should consider. It allows you read on what the courses will entail and what the objectives are of each course, lesson or class you may be considering enrolling for.
The Alpine French School website also invites you to sign up for the Newsletter by completing the online form. The news letter, like the new website will offer plenty of useful information, inform you of any up and coming events. It will also provide advice as well as tips for your first or next French course.
One of my favourite things about the Alpine French School website is Word of the Day! Word of the Day is a word, a phrase or a saying in French that is updated everyday. There is a picture that will help explain the word or phrase, saying as well as an explanation/ translation in English. Some of them are very entertaining. All of them are useful. Take a look and enjoy!
---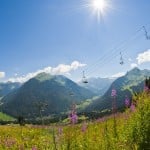 So we are out of lockdown in the UK and in France and people's thoughts are turning to their summer holidays. After so long stuck at home during lockdown, many people are looking forward to taking a holiday either in their own country or overseas.  If you are thinking of…
Continue Reading
---
---
---
---