Concerned about the Coronavirus? Contact us to discuss our new FREE CANCELLATION POLICY & book with peace of mind Contact Us
We have been busy since the end of our French Summer Camp 2017 trying to organise new activities to include in our Activity Programmes for Summer 2018! A large amount of our juniors love our Adventure Activity Programme but others want to try different activities during their time with us. Some campers stay several weeks with us and some of them want to try different activities each week. So we have been looking into additional activities that we can include in our French Summer Camp for 2018.
All of the activities we include in our Summer Camp have to be run by suppliers who have the necessary qualifications and have been through the safety checks that are obligatory for all activity suppliers in France wanting to work with junior groups. The French government are very strict about this which is great for our Summer Camp students as we get to work with some great activity providers!
New activities for 2018 will include:
Zumba: a great fun way to learn some modern fun dance! Our juniors' Zumba teacher will teach the steps needed to do Zumba in a fun environment.
Archery: organised by a specialist archery company who take pride in sharing their love of the sport with juniors.
Sarbacane: a type of blowgun, juniors love this fun activity
Archtag: 2 teams battle with foam arrows hiding behind obstacles to protect themselves from the other team's attacks!
Laser game: 2 teams with laser guns act out battles based on different scenarios. A great fun way of encouraging teamwork and teaching strategy.
Creative arts: make personalised bags, cards, photo frames and much more in our creative workshops.
Yoga: a fun way to learn to express emotions and sociability through yoga postures and group games. For older children, yoga helps reinforce self-confidence, strength, coordination and flexibility.
For more information about all of our activities including sample activity programmes, please click here
---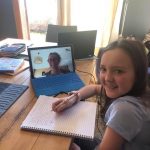 2020 is a strange year so far….it started off ok but with the distant news of a new Coronavirus and within 3 months, our worlds were turned upside down.  With a large part of the world's population in lockdown or quarantine, we have had to adapt to new working conditions,…
Continue Reading
---
---
---
---