* Book now for Winter 2023 at last year's prices - from just 199€ per week for an Intensive Course! * Enquire Now!
Must-See Events in Morzine this Summer 2022
Fancy a fun-filled Summer with something for all of the family? Look no further…
If you have never been to the mountains during the Summer, you really are missing out.
Although your first thought of Morzine may be as a Ski Resort, our idyllic location means there are always different activities on offer, so whether you like parapenting, mountain biking, relaxing by the pool or enjoying some classic French fromage at the market, you are sure to find something you like. Every year, the tourist office puts on original events to ensure there is something for everyone. We've compiled a list of all the fantastic going-ons this Summer so you can add them to your diaries!
Saturday 2nd – Sunday 3rd July
Spartan Race – Trifecta Weekend
The Trifecta is the greatest annual Spartan challenge, which sees its competitors cross high-altitude lakes, swim in white water rivers and climb immense slopes, all whilst running up to 50km! These brutal circuits are designed to push limits and test its competitors' athleticism and mental strength. Don't worry, we don't blame you if you don't want to take part…! However, if you fancy spectating, the Spartan Race route comes directly through the town centre and extends onto the ski slopes. Show your support for the 'Spartans' and give them a cheer of encouragement if you're in Morzine on race day.
Monday 11th – Tuesday 12th July
Tour de France 2022
Yes, you did read that correctly – the infamous Tour de France is coming through Morzine this year! The Portes du Soleil is the gateway to the mountains for the 109th Tour de France. After 6 years away, the start of the 10th stage is coming back to Morzine this 12th July, after the competitors have their rest day on 11th July. They will be embarking on their next stint to Megève, which crosses the Vallée d'Aulps, the plateau de Gavot, Thonon and the Vallée du Brevon. Morzine will be in the heart of the action, and the atmosphere is sure to be unmissable.
Thursday 14th – Sunday 17th July
Morzine-Avoriaz Harley Days (including live concert from Status Quo)
Every year, Harley-Davidson club members are invited to gather in Morzine to take part in demonstrations, ride in our beautiful alpine setting and enjoy some rock music! This year, more than 10,000 motorcycles and 30,000 people are expected at the Morzine-Avoriaz resort. The legendary rock band Status Quo will also be performing a free concert on Saturday 16th July, alongside other rock artists.
Saturday 23rd – Sunday 24th July (10am-6pm)
The Nature and Plants Fair
It seems only right to celebrate all things natural when Morzine itself is surrounded by so much biodiversity and all things green!  You can expect to find a plant market, with all kinds of organic and natural products on sale, conferences with renowned specialists to educate you in all things plant and well-being, as well as workshops for children. There is something for all the family, from guided walks through nature to cookery workshops! This fair will take part in the centre of Morzine, near the tourist office.
Sunday 24th July
"Adopte 1 Col": Morzine to Joux Plane
For those of you cycling enthusiasts, why not take part in this legendary climb at 1690 meters altitude?! This col is crossed 11 times on the Tour de France route, and offers breathtaking views over the Giffre valley, as well as the famous Mont Blanc range. From Morzine, it's an 11.65km climb at 8.5% incline. The road will be closed to cars, meaning it's the perfect opportunity to enjoy the landscape and relax. Feel free to join in and go at your own pace.
Monday 25th July – Friday 29th July
Morzine Kingdom of Children
During this week of fun, a range of activities will be on offer for children by the tourist office in the centre of Morzine. From 10am-7pm, you can find themed workshops, music shows, face painting and more. The best part is that all of these events are FREE!
Wednesday 3rd – Thursday 4th August
Morzine Beach
If you're missing the beach, not to worry, Morzine will bring the beach to you! While the children can get busy making sandcastles in the sand pit, there are also deck chairs on hand for parents to enjoy the sunshine and relax. Alongside this, there are all kinds of activities, such as creative workshops, face painting and Zumba classes for the adults (and why not get the children involved too)!
Saturday 27th August
Triathlon Morzine-Montriond
The Morzine-Montriond triathlon is open to everyone, with a variety of courses to suit a range of abilities. It starts with a swim in Lake Montriond, followed by a bike ride up to Avoriaz (a climb used in the Tour de France) and concludes with a run along the banks of the Dranse River. 6 courses are on offer, with the most difficult including a 1.5km swim, 40km cycle ride with more than 1000m of ascent and a 10km run. Don't panic! There are easier courses if it's your first time, and even races for juniors.
Friday 9th – Saturday 10th September
74th Mont-Blanc Rally
At the end of Summer, Morzine welcomes the arrival of hundreds of rally cars as it is home to one of the stages of the French Automobile Championship, the Mont-Blanc Morzine Rally. Be prepared to hear plenty of car engines racing around the mountains and marvel at vintage and historic cars. This event brings fans from all over France and Europe, with commentary and other events taking place near the tourist office in the centre of Morzine.
---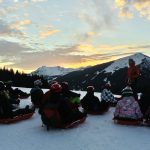 Planning a trip to Morzine this Winter? We decided to ask our members of staff at Alpine French School what they would recommend to a first time visitor to the area. As many of them have lived and worked in Morzine for years, they know the best spots to warm…
Continue Reading
---
---
---
---