Concerned about the Coronavirus? Contact us to discuss our new FREE CANCELLATION POLICY & book with peace of mind Contact Us
Meet the teachers: Lucile
As the end of the inter-season in Morzine comes to an end, we're gearing up to launch all of our fantastic new courses for the summer term, including French intensive courses for all levels, private classes and weekly group lessons. We're also putting the finishing touches to our amazing French Summer Camp so it's pretty busy at Alpine French School HQ. We are excited to get going again and nobody is looking forward to it more than our bright and cheerful teacher Lucile. If you've been to Alpine French School before, you'll know her face, she's always ready and willing to help any student at the school. Here's a little bit of information about her:
What is your favourite French phrase?
My favourite French phrase is C'est chouette !! This popular phrase is used to exclaim how good something is in a colloquial way. In English it's a little bit like "that's great!" or "that's cool". (No wonder Lucile loves it because she's always enthusiastic about everything. Why not see if you can drop her favourite phrase into the next French conversation you have? Or if you have an Intensive French Course with Lucile, why not drop it into a sentence and see if she notices?!)
What do you most enjoy about teaching french?
I love meeting people and showing them they know more than they think they do
Why did you decide to be a french teacher in the first place?
Morzine is a very multicultural place with people from all over the world choosing to live here. I decided to be a teacher because I wanted to help people understand the French culture more and help them the best i can, to integrate with French communities. The French Intensive Courses are a great way for me to help people with the language and culture quickly and effectively.
Tell us a little bit about your history – where you grew up, what you studied, how you came to be in Morzine.
I studied English in Chambéry, France, lived a year in England and then did part of my masters degree in the USA. I was born in Provence but mainly grew up in the Alps. I've always been attracted to outdoor activities, I love to hike, rock climb, bike and paraglide.
What do you most like about Morzine?
What I like the most is being close to the mountains. In the summer when I finish teaching I can just hike up a mountain and paraglide off into the sunset. In the winter,  I can go ski touring before or after work. It's wonderful to have so many amazing activities right on our doorstep.
Has anything funny happened to you whilst teaching at Alpine French School?
In January in France we eat a "galette des rois" which is a special cake in which there is a little figurine hidden inside. I bought one to share with my students and had told them about the tradition but once the cake was eaten, nobody had found the figurine. We went back to the bakery where I had bought it and the students explained in French what the problem was. The lady there apologised and gave us 2 figurines. I just hope nobody had eaten it by mistake!
What you're most looking forward to about the coming months at Alpine French School?
I love meeting new students, they come from all over the world, with different experiences, problems with the language BUT with the same will to learn whilst enjoying the mountains. I am excited to see who I will meet next at the new French Intensive courses.
---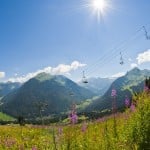 So we are out of lockdown in the UK and in France and people's thoughts are turning to their summer holidays. After so long stuck at home during lockdown, many people are looking forward to taking a holiday either in their own country or overseas.  If you are thinking of…
Continue Reading
---
---
---
---