Concerned about the Coronavirus? Contact us to discuss our new FREE CANCELLATION POLICY & book with peace of mind Contact Us
Meet the teachers: Justine
We know that taking the plunge and signing up for French lessons can be quite intimidating. Perhaps you're scared about going "back to school" or are worried you won't enjoy the classes. Perhaps you're also unsure of what course to sign up for. We offer a variety including French intensive courses and also private lessons, so it can be tricky to know which will work for you. We're sure that once you know more about the teachers who deliver our courses, your mind will be put at rest and you'll be able to take the next step! We employ only the best teachers with infectious enthusiasm and heaps of experience.
Meet Justine…
I grew up in the north of France and we moved to Haute-Savoie with my parents when I was still a child. For a long time I wanted to work in an artistic field but after high school I went to uni in Grenoble to study French literature and language; I realised that I actually loved books and learning about French structure and grammar so I really felt like I belonged there. After three years, I was a bit unsure about what to do next and that's when I discovered that I could learn how to teach French as a foreign language, which seemed like an amazing opportunity for me. So I started my masters degree and given that I had to find an internship during my last semester, this is how I found Alpine French School. After the internship in winter 2016, I just couldn't leave this beautiful town and this amazing team I was now working with!
Why did you decide to be a French teacher in the first place?
I've always been drawn to languages, and for a while, I actually wanted to be an English teacher! But I discovered in university that teaching French was an option and given that I was studying french literature and grammar, it seemed like it was the obvious path for me to take and I'm glad I did!
What do you enjoy most about teaching French?
I love that I can be creative and have fun with the material I use in class, it's always a surprise to see how the students react to it and what they have to say about the different topics we tackle during the lessons. But the most interesting thing for me is that I get to meet so many different people from around the world and to get to know them and learn about their views. It's a very enriching job.
What do you most like about Morzine?
Morzine is such a special place for me, the mountains are so beautiful, everyone is friendly and it's really like a bubble away from the rest of the world.
What are you most looking forward to over the coming months at Alpine French School?
I can't wait to go back to teaching the French intensive courses and weekly lessons during the summer, it's such a pleasant atmosphere, everyone loves learning in the sunshine, and being able to have a drink with everyone after work, surrounded by mountains. It's just perfect.
Has anything funny happened to you whilst teaching at Alpine French School?
There are things that I guess we could only see in Morzine, for instance, during a lesson we saw a bunch of goats walking across the road and just being very chilled about it; they ate the neighbours flowers which was very rude but extremely funny!
What's your favourite French phrase?
I think my favourite French phrase, is actually in a dialect from the north of France, which is where I'm from originally: "Férme eut'bouke, tin nez y va kére éddin !" ("Ferme ta bouche, ton nez va tomber dedans") which in english means "close your mouth, your nose is going to fall in it"!  It's just a very funny sentence we say to people who look dumbstruck with their mouth open!
Justine teaches weekly lessons at Alpine French School and also teaches on our French intensive courses. We have a number of different courses starting up over the next few months offering the chance for students of all abilities and levels to give lessons a go! Justine is excited to meet you!
---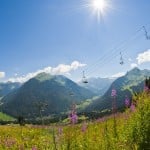 So we are out of lockdown in the UK and in France and people's thoughts are turning to their summer holidays. After so long stuck at home during lockdown, many people are looking forward to taking a holiday either in their own country or overseas.  If you are thinking of…
Continue Reading
---
---
---
---