Concerned about the Coronavirus? Contact us to discuss our new FREE CANCELLATION POLICY & book with peace of mind Contact Us
Kwiziq: Alpine French School's e-learning partner
Kwiziq is a modern e-learning solution for learning French online. The team who set up Kwiziq are a modern, forward-thinking team who are constantly improving and re-developing Kwiziq to make it more user-friendly and adding new resources. The features that made us choose Kwiziq as our e-learning partner include:
its complete placement test that you take when you first log on. This enables Kwiziq to learn about your level of French, to determine your areas of weakness that you should work on and to set suitable future work for you.
The brain map which is organised by CECR level and breaks each level down into individual grammar points that should be covered for that specific level to enable students to work their way through suitable exercises and subjects
Quizzes: Kwiziq is based on Quizzes and the idea is that you learn by reading an explanation and then practising it through doing quizzes to test your knowledge.
There are also explanations or grammar points, blogs with pronunciation recordings and tips and trophies to see your progress through the CECR levels
Our team have noticed that our students who use Kwiziq and spend time working on their French between their lessons make much faster progress than other students. This is one of the reasons we, at Alpine French School, chose to work with Kwiziq. Kwiziq has its own statistics on how effective its users find it. All users reported faster progress when using Kwiziq, from 50% faster to ten times faster.
We train our teachers on Kwiziq and they integrate it into our courses.
It has been proven that by associating a good e-learning solution combined with face to face lessons, either individual or in a group is the most effective way to make progress in a foreign language.  Of course, going to the country and speaking it while out and about is also very beneficial!  Therefore spending time in France + taking a French course + using our e-learning solutions is worth considering :)
---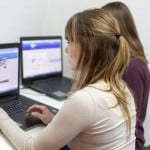 If you're thinking of ways to keep up your French or your children's French during this period of confinement, lockdown or social distancing, then you might have thought about Skype or Zoom lessons.  However, if you've never taken a virtual lesson before, then you may wonder what it's like and…
Continue Reading
---
---
---
---