How to survive a French intensive course at Alpine French School
You're an adult. You finished full time education years ago. You never intended to go back to school. Yet here you are, living in France and debating whether to book yourself onto a French intensive course at Alpine French School. The dread of returning to the classroom is creeping in, you're scared, like you were on the first day of secondary school, you are starting to think this is all a big mistake. Who needs to learn French anyway? Stop right there. This could be the best decision you'll ever make. Learning a new language has heaps of benefits – it opens up doors all over the place. Don't chicken out now. Here's our survival guide to coping with your big return to education….
1: Be prepared to get it wrong
Learning a new language can be tricky. There are loads of verbs with different endings, the different tenses are beyond complicated and perfecting the accent is a challenge. So be prepared to get it wrong, you won't get it right all of the time. If you go into your lesson knowing that and are comfortable with the fact you've got a way to go before you are fluent, then you'll be absolutely fine.
2: Be prepared to laugh at yourself
Don't be too serious. Be prepared to laugh at yourself because trust me, you'll have a lot of fun. Sometimes simply changing a letter or accent in French can change the entire meaning of a sentence and you can end up saying all sorts of things you didn't mean to. I was proud of myself in restaurants when responding to the waiters question "did you enjoy your meal", I would happily say "oui, je suis tellement pleine" with a big smile on myself thinking I was telling them, "yes, I'm very full"…what I didn't realise was that I was actually saying "yes. I'm very pregnant". Also, don't get Cul and Cou mixed up. One means bottom and the other means neck. You could get yourself into all sorts of trouble!
3: Don't be scared to practice when you get the chance
The only way to improve is to practice. It's like anything, you only get better at something if you do it. Sadly practicing it can be quite daunting especially when you read the above paragraph! However, I was once told by someone that you "just have to do it", and she was right. Speaking to native French speakers and listening to conversations going on around you is the best way to put everything you learn on your French intensive course into practice. You'll find that most people, especially here in Morzine are happy to help you and actually quite like it when they see you making the effort.
4: Don't worry about what other people think
If you're worried about getting something wrong every time you speak to someone and you're afraid that they'll think you're a fool, then you just won't enjoy your French intensive lessons. You'll be with other people in the class but it really doesn't matter what they think. Perhaps the person sitting next to you will get a grasp of the passé composé quicker than you but don't feel self conscious because you'll probably understand the imperfect tense much quicker than them! Everyone has their strengths! We've also talked about being able to laugh at yourself, if you say something in a slightly dodgy accent and someone giggles, don't take it personally, have a giggle yourself and move on!
5: Don't be afraid to ask questions
When you think back to school french lessons, if you're anything like me, the memories of a scary lady standing at the front of a class full of petrified students comes flooding back. "Est-ce que je peux enlever ma veste?"… "NO MADEMOISELLE. YOU CAN NOT TAKE OFF YOUR BLAZER." Our teachers are NOTHING like that. They're friendly, enthusiastic and above all patient. Make sure you make the most of your French Intensive course with them and don't be afraid to ask them questions. They are there to help you and won't make you go and see the headteacher if they think the question might be a bit daft!
---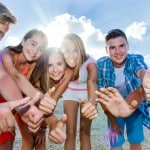 We are pleased to announce that bookings are now open for Summer 2021! We have been working hard to make our 2021 French Summer Camps better than ever before.  2020 was a difficult year and everyone deserves a great summer break in 2021…. A new activity programme including great adventure…
Continue Reading
---
---
---
---