Concerned about the Coronavirus? Contact us to discuss our new FREE CANCELLATION POLICY & book with peace of mind Contact Us
French + Yoga: special offer
Winter is drawing to a close, the temperatures are warming up, spring is in the air and you are probably starting to think about your holiday plans for the spring and summer months! Nowadays, more and more people are looking for rejuvenating holidays after the winter season to re-focus their mind and energy for the start of the new season. The long winter months can take their toll on anyone, dark mornings and evenings, cold gloomy weather and a lack of sunshine mean that most of us reach the end of the winter ready for a break!
We offer a range of unique summer holiday ideas with something to suit everyone. If you are very adventurous but haven't been to the mountains before, why not try our French + Adventure Activity course combining a range of mountain activities with an Intensive French Course. Or if you already have a sport you are passionate about, we offer single-sport courses such as French + Mountain Biking, French + Climbing, French + Paragliding, French + Hiking or French + Road Cycling. Enjoy your chosen sport 3 or more mornings per week plus full-days at the weekend and study French in the afternoons on our French Intensive Course.
If this all sounds too active for you, and you are looking to re-energise and rejuvenate before summer starts, then what about our French + Yoga retreat? A perfect combination of an Intensive French Course plus afternoon yoga sessions and workshops with a French yoga teacher. This holiday enables you to improve your French, re-connect during your yoga sessions and rejuvenate in the beautiful Alpine air and scenery. Accommodation in a mountain chalet is included in the package price but we can also arrange hotel accommodation if you prefer. Read more about our Learn French + Yoga package here
Our next course runs 4th – 11th June 2016.
As a special offer, we are offering people who book before the end of April a discount of 25€ on our package price of 895€.
---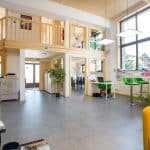 Super Intensive French Courses If you have time in November, why not give your French a real boost before the winter season?  Speaking French may be more important than ever this winter with the likely increase in the number of French tourists!  Take a Super Intensive course and you'll really…
Continue Reading
---
---
---
---