We were fortunate to be able to run French Summer camps in 2020 despite Covid complicating international travel.  Life in Morzine, like elsewhere in the world, has changed in the last 6 months.  However because the majority of Morzine's activities take place outdoors, we are very lucky that life has carried on with not too many changes or restrictions.  Local businesses have put social distancing measures into place and mask wearing is mandatory throughout the centre of the town and in all commerces.  On the chairlifts and in the cable-cars, passengers have to sit more spaced out than normal and wear a mask.  At the swimming pool, you have to book online through a simple form, shower on your way in and wear a mask apart from when you are at the poolside.  All of these measures meant that Morzine and its tourists had a happy and sunny Summer :)
We ran our Summer Camps with a covid protocol in place including social distancing, masks for over-11s and all staff, increased cleaning and disinfecting of our premises and accommodation, removal of shared material, picnic lunches instead of a canteen, temperature checking of anyone feeling unwell or displaying possible symptoms and much more.  Our clients were happy and felt safe with the measures we had put in place without feeling that the measures were too restrictive to spoil their enjoyment of our camps, courses and the beautiful mountains!
Based on our experience, we have been busy planning our French Summer Camps for 2021.  We will be running:
Residential French Summer Camps
French Day Camp
French Family Camp
GCSE & A-level revision courses
Courses for expats
You can read more about our camps here.
New for 2021
We have a new accommodation provider for our residential camp, within 10 minutes walk along the Parc des Dérêches into Morzine centre in a newly renovated study centre with modern, bright facilities.
Watch this space for news on our new activity programmes!
We have put into place a new system to further improve teacher-parent communication during and after the camp.
We have a new bilingual reservations assistant called Gallia who will be happy to help with any questions our clients have.  A Morzine resident and experienced in holiday reservations and operations management in addition to teaching, Gallia taught at our English Summer Camps in 2020 and is a great addition to the team!
---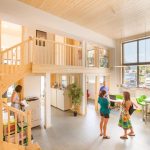 Did you book onto an intensive winter course at our school in Morzine? Well lucky you! During our lessons, we like to focus on conversation, which is complemented by those pesky grammar points and comprehension, but the ultimate goal is to get you to be able to communicate with French…
Continue Reading
---
---
---
---