French Summer Camp in France 2019
Our French Summer Camp in France 2019 has only just over a week left! We have been extremely lucky with the weather and in 5 weeks, we've only had one day of rain so our students have enjoyed beautiful sunshine every day for weeks on end :)
Our team of 8 teachers have worked hard to ensure that children have learned a lot of French during their time with us and that they have done it in a fun environment. The focus with our younger day campers is fun and learning in a communicative manner to encourage them to speak a little French when they are out and about and to make them understand that learning a language can be useful and a good laugh! With our older students who are preparing for examinations such as GCSEs, A-levels, AS-levels, IB and IGCSE, we still maintain this communicative approach but with a touch more seriousness to prepare them for all aspects of their exam. For students taking their exam preparation more seriously, we also offer private language lessons. In these private language lessons, students work on subjects or areas that are individual to them and the exams that they are preparing.
Our 2 Camp Directors and 8 Activity Leaders worked hard to organise the diverse activity programmes that we offer our campers. From adventure activities where students explore the region and take part in some thrilling activities such as mountain biking, white-water rafting, canyoning, climbing, archery and Via Ferrata to horse-riding for riding fans. We also offer a Discovery and Creativity programme for younger and/or less adventurous campers including a wide variety of activities of all kinds.  They also look after the well-being of all of the residential students morning, noon and night and at the weekends to ensure that everyone spends a great summer with us!
So we are almost at the end of our 2019 Summer Camp and we are pleased that all of our campers will go back to their home countries with fond memories of their time in the French Alps and with an enthusiasm for their French studies from their time spent with us!
---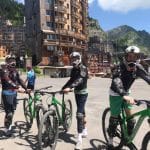 As I write this, we're currently in the middle of one of the busiest weekends of the year in the Morzine calendar. Harley Davidsons are racing past my window to head into the centre of Morzine to Europe's busiest Harley festival. The roads are also full of mountain bikers and…
Continue Reading
---
---
---
---