* Book now for Winter 2023 at last year's prices - from just 199€ per week for an Intensive Course! * Enquire Now!
French Social and Cultural Activities
New for 2019, Alpine French School is pleased to announce it's French Social and Cultural Activity Programme!
Students and visitors to Morzine can book on to a range of activities in French suitable for all levels of French.
Monday: Introduction to Activities for the week
Every Monday evening during the winter season at 18h, Carol will be at Alpine French School to explain the activities that will be on offer during the week.  Please feel free to come along and learn more about the activities.  Alternatively you can contact Alpine French School directly to book your activities on info@alpinefrenchschool.com.  Activities must be booked in advance.
French Cooking Class
On Tuesdays, Carol and her husband Fred host a French cooking class at their traditional chalet home. Learn to make traditional French savoury 'galettes' and sweet 'crêpes' with explanations in French from chef Fred.  After the cookery class, you are invited to stay for dinner and eat what has been made!  Dinner includes a savoury galette, salad, sweet crêpe for dessert and drinks (usually cider as this is traditionally drunk with crêpes).  Carol and Fred also provide a taxi service to and from Morzine.  Collection from Morzine is at 6pm at Alpine French School.
Wine & Cheese Tasting
On Wednesdays at Alpine French School in Morzine, there is a Wine and Cheese Tasting Evening.  Enjoy French conversation plus tasting notes, guidance and information on the wine and cheese chosen for each tasting.  A selection of French wines and a selection of cheeses will be chosen for the tasting and this will vary from week to week so that you can sample different wines from different regions of France and also a selection of France's many cheeses! The tasting evening starts at 6.30pm and you can choose to taste Wine or Cheese or both.
Yoga
On Thursday afternoons at 4.30pm at the Palais des Sports in Morzine, you can enjoy a yoga class in French with Rachel (who also speaks English to help with instructions if necessary).  The class lasts an hour and you can just turn up and book on the spot.  The class is a mix of Yin and Hatha yoga and Rachel is an excellent fully qualified and experienced instructor.  The class is suitable for all levels of yoga and French!
French Conversation Evening
On Thursday, the local bar 'Le Bec Jaune' located in the centre of Morzine hosts a French conversation evening.  A free conversation evening, clients are encouraged to exchange French conversation and dictionaries and board games are provided to keep the conversation flowing.  No need to book, just turn up!
Traditional French Mountain Dinner with a local family
On Friday evening, enjoy a traditional 'Savoyard' (our region of France) dinner with a local French family.  Enjoy a local speciality Tartiflette or Fondue but the advantage of booking this evening rather than going to a restaurant is the atmosphere and French conversation!  Learn more about the local region and its cuisine and practise your French with a local French family who are great hosts.  Pre-dinner drinks and nibbles/canapés are provided, followed by Tartiflette or Fondue, a dessert, coffee/tea and wine.  A taxi service to and from Morzine is also provided as the family live in a neighbouring village.  A great evening!  Pick up from Morzine at 6.30pm
Come along on a Monday evening at 6pm to Alpine French School to hear our introduction to the week, click here to read about the programme on our website or email info@alpinefrenchschool.com.  Activities must be booked in advance except the yoga and French conversation evening.
---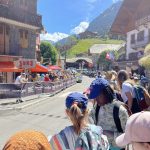 Summer 2022 feels like a long time ago, especially now we have snow in Morzine. But what a Summer it was!  Our Summer Camp kicked off with a busy week as Morzine hosted the starting stage of Le Tour de France and the bi-annual Harley Day's Festival. We managed…
Continue Reading
---
---
---
---