French Immersion in Luxury
If you fancy learning French and enjoying French immersion and luxury at the same time, then take a look at our latest package!
Guests can stay at Chalet Guytaune, home to a hot tub, sauna, and a French chef (for food and French language immersion!). Time is split between the ski pistes with fellow students or French ski instructors, the classroom located in central Morzine, or the luxury chalet.
Upon arrival at the chalet , you will be served champagne and canapés. Start each day with a hearty cooked and continental breakfast by our French chef before heading to the slopes for an exhilarating morning of skiing. Ski with other students, or take lessons with a French ski instructor if you need some skiing tips. Skiing and snowboarding is available for all levels and transport to and from the slopes is provided to make your stay more comfortable.
Head off the slopes and grab a bite to eat in one of the many cafés, restaurants or boulangeries in Morzine before heading to Alpine French School for your French course. Located in the heart of Morzine, our friendly welcoming atmosphere will make you feel at home straight away.   Our bilingual reception staff and our friendly and fun, experienced native-speaker French teachers create the perfect learning environment to improve your French.
After your French lessons, head back to the chalet for a 4-course evening meal prepared and served by your French chef, served with complimentary wine. If you have any energy left after dinner, then you can complete your homework using the chalets free wi-fi and Alpine French School's online multi-media centre.
Package includes:
French Intensive Course (15 hours per week): several levels available every week
Half-board accommodation in Chalet Guytaune
Ski-pass
Other extras can be arranged such as airport transfers, ski-lessons, ski-hire, child-care and anything else you require to make your trip a success
---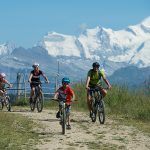 Our 'Family Camp' is one of our most popular options for parents and children to study with us during the summer season, but it's also the option that we get asked the most questions about! So we thought we'd put together a quick blog for the 'Frequently Asked Questions' and…
Continue Reading
---
---
---
---