French Clinics for Children & Teenagers during Christmas holidays 2020 – 2021
We are running French Clinics for children and teenagers during the Christmas and New Year holidays 2020 – 2021.
These clinics or workshops are not traditional French Lessons.  They are run by our qualified, native-speaker teachers who are experienced in French teaching for all levels and ages.  During these clinics, our teachers will be able to:
Offer a 'help-desk' for course-work
Help with 'home-work'
Give advice about all aspects of French learning
Answer your questions about all aspects of French learning
Explain any grammar points that may be causing a problem
These clinics would be for mixed levels and ages and there will be a maximum of 5 students per class.
Since these sessions are workshops and not lessons, the idea is that students turn up with their own work and our teachers help and assist with this.
Children studying in France
If you are an expat and your children are studying in France, they can come and do their French language homework in our centre under the expert guidance of one of our teachers.  Avoid the stress of home-schooling, let them come and do their challenging work in a focussed and calm environment
Children studying in the UK or other countries
If your children are studying for GCSE, iGCSE, AS-level, IB or A-level and wish to continue studying during the holidays, this is the perfect way to keep up their studies and get the expert help of our native-speaker specialist teachers to give them that extra boost.
If your children are doing course-work or home-work during their holidays, we can help them to do this in a calm focussed environment with an expert native-French teacher on-hand to answer any questions they may have and guide them with their work.
Get the work done with no tears and no stress so that you can enjoy your festive family time without the headache of course-work or home-work!  And increase their chances of improving their marks.
Session times:
Monday 21st December 13h30-14h30
Wednesday 23rd December 13h30-14h30
Tuesday 29th December 13h30-14h30
Thursday 31st December 13h30-14h30
Price
20€ per hour
---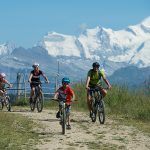 Our 'Family Camp' is one of our most popular options for parents and children to study with us during the summer season, but it's also the option that we get asked the most questions about! So we thought we'd put together a quick blog for the 'Frequently Asked Questions' and…
Continue Reading
---
---
---
---