The French are well known for having more bank holidays than many other countries!  So how many do they actually have, what are they and how do bank holidays work in France…..?
French call bank holidays 'fériés' or 'jours fériés' and in France (unlike in the UK for example), the bank holiday is taken on the actual day it falls on, whatever day of the week that is.  Some are fixed like Easter Monday, but for example if Ascension Day falls on a Tuesday then the bank holiday is on the Tuesday itself.  If the bank holiday falls on a Tuesday or a Thursday, the French often make a 'bridge' to the weekend which is called a 'pont'.  French people 'faire le pont', for example taking off the Friday if the bank holiday is on a Thursday to make a long weekend.
Here is a list of the 11 French bank holidays
New Year's Day (Jour de l'An): 1st January
Easter Monday (Lundi de Pâques)
Labour Day (Fête du Travail): 1st May
Victory Day (Victoire des Alliés): 8th May
Ascension (Ascension): 40 days after Easter
Whit Monday (Lundi de Pentecôte): 10 days after Ascension and 50 days after Easter
Bastille Day (Fête Nationale): 14th July
Assumption (Assomption) : 15th August
All Saints' Day (Toussaint): 1st November
Armistice (Armistice): 11th November
Christmas Day (Noël): 25th December
This makes a total of 11 bank holidays.  But if the bank holiday falls on a Sunday, then the Sunday is considered the 'férié' so French people go to school and work as usual on the Monday.  This means that some years, French people get several opportunities to 'faire le pont' and make a long weekend out of bank holiday days.  However some years, several bank holidays fall on a Sunday and so this makes no difference to their working week!  The regions of Alsace and Moselle/Lorraine have 2 additional public holidays because of their previous affiliation to Germany.  They are now French regions but have kept these 2 German public holidays: Good Friday and Boxing Day (26th December).
---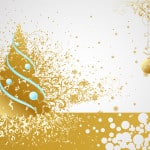 Advent calendars – les calendriers de l'Avent French children open Advent Calendars like in many other countries during the month of December leading up to Christmas. Postcards from Père Noël Letters from French kids to Father Christmas always receive a response from Santa. Since 1962, France has had a…
Continue Reading
---
---
---
---