Concerned about the Coronavirus? Contact us to discuss our new FREE CANCELLATION POLICY & book with peace of mind Contact Us
French Summer Camp food fears dispelled
We know that children and young teenagers can be very clear about their likes and dislikes and we know that it's not easy to please everyone when it comes to food. However we spend hours trying to perfect our French Summer Camp menu to make sure that there's something to suit every taste. We know, that as parents, sending your child away on a camp for a week brings its worries especially with regards to what they're eating…"will they eat enough?", "will their dietary requirements be catered for", "will they just live off chips and chocolate for a week?". Each year we refine and develop our menu based on your feedback and this year we're excited to show you what's on offer.
What food is on the menu this year?
We've had a sneaky peak at the menu for this year's French Summer Camp and we're excited to tell you all about it. Each day the students are provided with breakfast, lunch and dinner as well as snacks to keep them going.
Breakfasts include fresh bread, cereals, honey, jam and marmite along with some tasty drinks to choose from. Lunches range from picnics that the children can take out with them to delicious foods like salads, fruit, charcuterie, cheeses and pastas. Dinners have an international feel to them with traditional French dishes like tartiflette and fondue alongside meals such as lasagne, macaroni and pizza. There are some delicious puddings as well, it's making me hungry just looking at the list! Snacks include fruit, compotes, crisps and other favourites.
Do you cater for dietary requirements?
The simple answer is yes. When you make your booking with us please make sure we're aware of any dietary requirements your child may have. Whether it's for medical or religious reasons or is a simple matter of preference we will ensure that they are catered for. We have a lot of experience catering for children and understand that food can be a serious worry for some youngsters, therefore we do our very best to make sure each student is well looked after.
How do you come up with the menu?
It's simple really. We listen to the children and of course your feedback. Each year we ask you to let us know what you thought of the food at French Summer Camp and we adapt our menu each year to reflect your responses. If a dish isn't popular then it's gone and we make sure that all the favourites are kept! For instance all the children loved American night last year so this year it's back with a vengeance!
What if a child doesn't like what's put in front of them?
Like we've said before it's nearly impossible to get it right every time. We always encourage children to try everything we put in front of them. The activity leaders are well trained to help and support the youngsters so do this in a friendly way. We also make sure that at every meal there are lots of parts to the dishes so if a child doesn't like one bit, they're are bound to like something else. There's always a lot to pick from. Don't worry! No child will ever go hungry that's for sure.
What have you changed from last year?
This year we're excited to present a menu that is rich in French culture but also has an international vibe as well. We are going to offer American nights for example which is something that the children always look forward to. We also listened to your feedback about snacks and are offering healthy options at each snack time. We understand that food is a huge part of our French Summer Camp and we're excited to show you what we've come up with for this year's menu.
---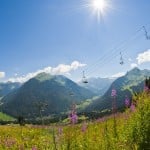 So we are out of lockdown in the UK and in France and people's thoughts are turning to their summer holidays. After so long stuck at home during lockdown, many people are looking forward to taking a holiday either in their own country or overseas.  If you are thinking of…
Continue Reading
---
---
---
---