Concerned about the Coronavirus? Contact us to discuss our new FREE CANCELLATION POLICY & book with peace of mind Contact Us
Folie Douce opening in Avoriaz
More exciting news for Morzine/ Avoriaz 2018/2019 Winter Ski Season… FOLIE DOUCE, Avoriaz is opening!
Alpine French School are so happy to share with you that Folie Douce, the world renowned Après-Ski bar will be opening its doors (and its tables for dancing on) on 15th December 2018 in Avoriaz the highest resort in the Portes du Soleil ski resort.
Folie Douce was created by Luc Reversade, and has been entertaining crowds ever since opening their first establishment in 1981 in Val D'Isère. Avoriaz will be the 8th venue for the legendary Folie Douce Team to open, following Alpine ski resorts such as Chamonix, Val Thorens and Méribel.
You may associate Folie Douce with a lively, party atmosphere where dancing on tables at 2pm in the afternoon to the DJ's banging tunes is considered the norm. That is the case, however, they are also known to not only cook up a storm on the dance floor, but also in the kitchen. The Folie Douce offers two restaurants, both with different concepts.
If you fancy a real swanky meal, then La Fruitiere offers an amazing choice. They focus on local produce and offer Savoyard food at its best. This will be a gourmet experience you'll never forget.
If you are looking for something slightly less formal then La Petite Cuisine offers a wide selection of local produce dishes served in a canteen style restaurant. In their own words though "La Petite Cuisine is simple, generous, hearty and spicy cuisine."
After lunch, or even after a day on the ski slopes why not join in with the legendary  après-ski held on the large terrace at the Folie Douce, Avoriaz from 2pm-6.30 daily. You never know….. Kely Starlight may make an appearance. Expect to see DJ's, live singers, bands and amazing performers.
Folie Douce has something to offer for everyone. The Alpine French School Team will definitely be making an appearance. You just need to guess where we will be…. In the restaurant, or on the terrace tables dancing!
---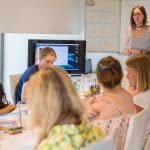 Most of us have more time in the autumn inter-season to do things like work on our French before the winter season.  Alpine French School is offering a range of courses to suit all levels, budgets and availability.  Read on for more information and don't hesitate to contact us by…
Continue Reading
---
---
---
---