Finding the French class that suits you
So you've taken the first important step and have decided to learn French. That's amazing! The benefits of learning a new language are well documented, it will open new doors for you, improve your self confidence, help you meet new people and much much more. However, now you need to take the next step and work out how you will go about it. Perhaps you're better in a group situation? Perhaps you prefer to go it alone? Well, we have lessons to suit all types of students, read on to find out which will be best for you…
Intensive French Course
Our intensive French courses are for people who like to completely immerse themselves in learning. The course aims to help you improve quickly in a relatively short period of time. These lessons are good for people who like a challenge and find that they learn best when fully throwing themselves into something. These courses aren't for people who like to learn slowly and steadily. Our groups have a maximum of 10 people in meaning everyone benefits from personal coaching and at the same time get to enjoy the fun of group learning. You can choose from 10 or 20 hours of lessons per week, so 2 or 4 hours over 5 days. These courses are a brilliant way of giving your French a speedy push in the right direction.
Super Intensive French Course
If you love the idea of really putting yourself and your ability to learn to the test then a super intensive French course with us could be just what you're looking for. Like our basic intensive course, you spend between 15 hours in the classroom over the course of 5 days and really get to bury yourself in the language. However alongside this group learning, you also get an hour private lesson each day. The purpose of this is for you to address issues and things you personally find difficult. There's no doubt that your mind will get a thorough work out if you chose to sign up for a super intensive course but if you enjoy a real challenge and want to see a quick difference in your French then this could be the ideal choice for you.
Weekly group courses
If you like the idea of learning in a group but don't think your brain would work well on an intensive course, then our weekly group sessions could be the best option for you. You get the fun and enjoyment of learning with others, but without the full on immersion of an intensive course. You will be given homework and study to do outside of your lessons which means your brain has time to process and understand everything it's learning. At the same time you get to meet new people who are at working a similar level to yourself. These group sessions usually have a great atmosphere and focus on learning through situations, games and group activities. As well as being educational, they're also fun!
Private weekly lessons
Perhaps you find the idea of learning in a group a daunting thought. Maybe you're not that confident or perhaps you simply learn better when you have the teachers full attention. Either way, private weekly lessons could be a better option for you. We will assess your current ability and then place you with a teacher who you will see each week for a period of sessions. They'll work on whatever you feel you need to focus on or they'll guide you and help you to get your French to the next level. You'll really get to know your teacher and they'll understand how you work most effectively. These lessonsare also great if you don't have much spare time. As they are private, we can usually fit them into a time to suit you. We're flexible and want to make learning the language as easy for you as possible.
French conversation sessions
Our French conversation classes are often used in addition to our other lessons and are great for people who learn by simply practicing. The lessons last an hour and are with a native French speaker who will begin chatting away to you as soon as you enter the classroom. You'll be taken through different situations and get the opportunity to have a go at chatting. These classes are great for people who have had a lot of lessons and want to put their learning to use. If you have a basic grasp of the foundations of French then these sessions could be great for you. Your teacher will offer you pointers and corrections and guide you in the right direction.
Please contact us to talk about what you want and hope to achieve. We are here to help and are flexible so hopefully meet everyone's requirements. Learning French has never been so easy!
---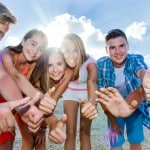 We are pleased to announce that bookings are now open for Summer 2021! We have been working hard to make our 2021 French Summer Camps better than ever before.  2020 was a difficult year and everyone deserves a great summer break in 2021…. A new activity programme including great adventure…
Continue Reading
---
---
---
---