The Fête du Travail always falls on 1st May and is a bank holiday in France, like in many countries around the world.  This was first celebrated in France in the late 18th century.  In America, the equivalent is Labor Day and this was first celebrated on Tuesday 5th Septembre 1882 by 10 000 workers.
The Fête du Travail as it is celebrated nowadays originated in the late 19th century where in France, the US and other countries around the world, the workers protested for a limit of 8 hours to the working day.  Workers in France marched with a red triangle as a button-hole which was later replaced by a wild rose.
In 1907, in Paris, the lily of the valley (muguet) replaced the wild rose bringing back an ancient tradition from the Renaissance period where lilies of the valley were offered 'le muguet de mai'.  These are now worn as a buttonhole with a red ribbon.  It is tradition to offer 'un brin de muguet', a symbol of spring in France.
On 23rd April 1919, the Senate ratified the working day of 8 hours and designated the 1st May as a bank holiday.
---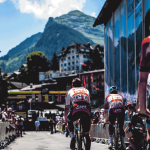 On Saturday 15th July the Tour de France will arrive in Morzine. The Tour will depart from Annemasse on Saturday morning and head towards Samoëns. From there, the riders will have to conquer the winding road to the Col de Joux Plane, at 1691 m altitude, that separates the valleys…
Continue Reading
---
---
---
---