* Book now for Winter 2023 at last year's prices - from just 199€ per week for an Intensive Course! * Enquire Now!
Emmanuel Macron and French Politics: A quick guide
The French Political System
It is important to understand and be aware of the political system in France if you are planning on moving here. France is ruled by a semi-presidential system of government. The President appoints the Prime Minister as the head of said government.
The bicameral parliament consists of the Assemblée Nationale (National Assembly) and the Sénat (Senate). This central government is the main decisive organisation in France, and therefore oversees new laws and policies pertaining to education, healthcare, transport, etc.
In regards to the electoral system, there are 4 types of elections. Namely, presidential, parliamentary, European and local. As often found in other European countries, the national elections take place every 5 years. France, as well as the UK does not use a form of proportional representation in its elections.
Macron vs Le Pen
The Fifth Republic was established in 1958 by Charles de Gaulle who was its first president. Its constitution is parliamentary, and gives significantly more power to the president and ministers compared to other European democratic governments. 
The current president of the Fifth Republic becomes France's youngest leader in 2017 since Napoleon. Representing the new party La Republique en Marche, the founder offers, to paraphrase, a new idea of politics, uniting the left and the right under a pro-European and liberal rule. Founded in 2016, he led the new party to their first amazing victory. Following the April 2022 elections, Macron is again elected. 
However, what initially was a fresh start for the French government, in the 2022 election Macron defeated Marine Le Pen by a much narrower margin than in 2017, which is quite telling of the increasingly right-wing sentiment in France. 
Marine Le Pen of the Rassemblement National (previously known as the Front National) is Macron's most threatening opponent. Since its conception, the party has been often associated with an anti-european, xenophobic and anti-semitic sentiment, strongly supporting nationalistic discourse as well as stringent immigration policies. More recently though, the FN has had a rebranding, and became the RN. This change has a clear effect on the 2022 elections, following a 24.9% increase in votes in the 2nd round.
So, if you happen to be thinking about moving to France, these may be important pieces of information when deciding on whether you want to move here.
---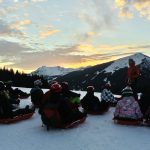 Planning a trip to Morzine this Winter? We decided to ask our members of staff at Alpine French School what they would recommend to a first time visitor to the area. As many of them have lived and worked in Morzine for years, they know the best spots to warm…
Continue Reading
---
---
---
---