Concerned about the Coronavirus? Contact us to discuss our new FREE CANCELLATION POLICY & book with peace of mind Contact Us
Book your French + Ski Course
Snow has arrived in the French Alps!
It's only November 8th and already we have a lot of snow falling in Morzine and Avoriaz with a lot more forecast over the next week!  This is the best start to the season that the French Alps has seen for years.  The cold autumn and the abundance of early snow is always a great start to the winter season.  With locals announcing one of the coldest winter for years, this means that the snow is here to stay and that the ski season looks like it will be one of the best for many years :)
Skiers and Snowboarders read on….
So if you are a keen skier or snowboarder wanting to make the most of this snow and improve your French at the same time, then take a look at our French and Ski or French and Snowboard packages.  The ideal way to ski or snowboard every day and also study French on one of our French Intensive Courses!
Ski or Snowboard with a guide or with other students every morning
Study French from 15h-18h15 every afternoon
Enjoy après-ski and French cuisine in the evenings with other students or your host family
Ski or Snowboard all day at weekends
Why Alpine French School?
Alpine French School is only 2 minutes' walk from the ski lifts
Accommodation is centrally located in Morzine
Communicative teaching methods: learn through conversation
Native speaker, dynamic, experienced teachers
Friendly, welcoming atmosphere
Online multimedia centre
Maximum 10 students per class
Study French in a Winter Wonderland!
Different accommodation options available: meet other students in a shared apartment, immerse yourself in French by staying with a French host family or treat yourself in a 4-star hotel.
Lessons are designed to give you maximum skiing and snowboarding time!
Contact us at info@alpinefrenchschool.com or call us on +33 450 79 08 38 to discuss the best options for you.
Photo courtesy of avoriaz.com
---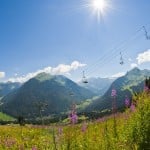 So we are out of lockdown in the UK and in France and people's thoughts are turning to their summer holidays. After so long stuck at home during lockdown, many people are looking forward to taking a holiday either in their own country or overseas.  If you are thinking of…
Continue Reading
---
---
---
---