Concerned about the Coronavirus? Contact us to discuss our new FREE CANCELLATION POLICY & book with peace of mind Contact Us
Alpine French School goes green!
Every day sees new headlines about climate change and what we can do to save our planet.  At Alpine French School, we wanted to do our bit too.  After all, we live in such a beautiful location and we want to preserve this as much as possible.  So we thought about the things we can do that could help the cause on a day to day basis in our school and summer camp centres.
 Recycling
We are a language school and we use a lot of paper resources which is a necessary part of our profession.  However our teachers are very aware of this and we recycle all used paper at the school.  We also use scrap paper for printing whenever possible to make use of both sides of all of our paper before recycling it.  We are also looking into becoming a recycling point for coffee capsules.  Christelle's rabbit even does some food recycling for us!
2.  No plastic
Our staff and students drink a lot of coffee, tea and water!  However, we didn't want this to mean hundreds of plastic cups and stirrers being used each week.  So we now have a no-plastic policy at the school.  We ask students to bring a Keep Cup or they can buy an Alpine French School keep-cup for their daily coffee to use during their course with us.  We have regular mugs for the occasional emergency if someone forgets their keep-cup!  We also use re-useable cups for students to drink water during their course.
3.  Summer Camps
At our Summer Camps, we ask all students to come with a re-fillable water bottle to use for their drinks throughout their time with us.  Morzine has great drinking water as we are in the same mountain range as the Evian water source so students can refill their bottles with fresh mountain water whenever they are thirsty.
4.    Energy saving
All of our staff are very aware of the need for basic consideration such as turning off lights when rooms are not in use.  We have low-energy light bulbs and our lights are on timers or we simply remember to turn them off when classrooms are not in use.
---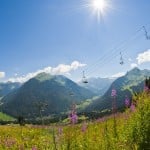 So we are out of lockdown in the UK and in France and people's thoughts are turning to their summer holidays. After so long stuck at home during lockdown, many people are looking forward to taking a holiday either in their own country or overseas.  If you are thinking of…
Continue Reading
---
---
---
---