Concerned about the Coronavirus? Contact us to discuss our new FREE CANCELLATION POLICY & book with peace of mind Contact Us
AFS Barcelona to Morzine bike ride
Living in the mountains all year round isn't for everyone, but most of the people I know live here for the same reasons…. to try and live everyday to its full potential. In Morzine we have everything you could possibly need for a day of adventure wether that is on the snow, climbing, swimming in lakes, attempting a Col on your road bike or trying to get down a downhill track on your bike avoiding those trees that jump out on you (and there's just a few things we do). Sadly this chosen lifestyle of ours does come with its dangers as do two British guys and their family and friends know. It's for this reason I am telling you all about the amazing people and community spirit we have here. Freddo was badly injured in a snowboarding accident last winter and needed medical and financial assistance to help with his rehabilitation. Andy (who sadly lost his life in an accident on the mountain this July) was planning riding from Morzine to Barcelona on his road bike in 48 hours to help raise money for Freddo. A group from Morzine as well as a few family and friends started out on Sunday to complete the 850km, 6 day adventure for this great cause and keep Andy's bike ride going.
Please see the link below to read more about these amazing people as well as the close community Morzine has to offer all year round.
https://www.gofundme.com/f/morzine-to-barcelona-senditforfredo
Andy's GoFundMe page was updates by his family. They will continue to raise money for Freddo as well as an additional beneficiary, The Kevin Bell Repatriation Trust, who helped bring Andrew home.
https://kevinbellrepatriationtrust.com/
Also please feel free to share and donate if you can.
---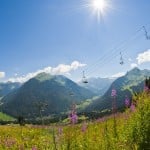 So we are out of lockdown in the UK and in France and people's thoughts are turning to their summer holidays. After so long stuck at home during lockdown, many people are looking forward to taking a holiday either in their own country or overseas.  If you are thinking of…
Continue Reading
---
---
---
---