Concerned about the Coronavirus? Contact us to discuss our new FREE CANCELLATION POLICY & book with peace of mind Contact Us
A side order of French with your skiing
As we get ready for even more snow to hit the Portes du Soleil we're bracing ourselves for a busy few months here at Alpine French School. However, it's not too late to get involved with some of the amazing activities, classes and events we've got happening over the rest of the winter. And with snow up to our knees why not book yourself a sneaky ski holiday with a side order of French to keep your mind ticking over at the same time?
Weather 
So far this winter, we've had amazing snowfall meaning the skiing this season is fantastic. We have snow down to resort level meaning the slopes are in brilliant condition. We've been looking at the forecast for the next few weeks and it seems there's plenty more where that came from as well. So this mega season doesn't look to be ending anytime soon. Perhaps now's the time to get yourself booked in for a ski holiday to experience some of these amazing conditions. If you're looking to add something a little different to your holiday this year, why not add some French lessons to really make this trip to the Portes du Soleil extra special and memorable.
Intensive French lessons 
We have several different options for you when deciding which type of French course to tag on to your ski holiday this season. If you want to really immerse yourself into the language whilst you're here then you might want to consider one of our intensive courses. We have different length courses available from weeks through to whole seasons, depending on how long you're planning to be here. Your French will come on leaps and bounds in an intensive setting but you'll have the joy of knowing you can clear your head after class with a ski in the amazing snow!
Exam preparation classes
Perhaps you're looking for French classes for a younger member of your family and like the idea of combining a ski holiday with some extra exam preparation lessons. Maybe your teenager is about to sit a GCSE or A Level exam and you feel that they need a little bit of extra help. Why not consider booking a ski holiday and whilst you're here booking them onto one of our exam preparation courses. We tailor the lessons to suit the exam syllabus and will help build their confidence in whichever area they're struggling. Once they've done some studying, they can pop their skis on and escape from it all, perhaps with the extra reward of a hot chocolate in the mountain for working so hard!
French immersion activities
New this year, and specifically for holidaymakers wanting to improve their French, is our new French social activity calendar. Each week we're running different activities that you can sign up to whilst you're here in the hope of giving your language an extra boost. We have a number of things on offer, including traditional Savoyard dinners with a French family and french yoga classes. These activities mean you don't have to lose any skiing time. We understand that when conditions are like this, it's hard to prise yourself from the mountain. Most of our immersion activities take place in the evening or early mornings so you don't have to lose a precious second of time on the slopes!
Weekly French classes
Perhaps you're considering coming out for the rest of the season after seeing how brilliant the snow is. If you're tempted to drop everything back home and try and make a life for yourself here in Morzine then we can also help you get settled and improve your French. We have weekly classes and private courses going on throughout the year that you can sign up to and we have something for every level and ability. These classes are great to help you find your way when moving to Morzine. It's also a great way to meet other people in the same boat!
---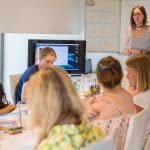 Most of us have more time in the autumn inter-season to do things like work on our French before the winter season.  Alpine French School is offering a range of courses to suit all levels, budgets and availability.  Read on for more information and don't hesitate to contact us by…
Continue Reading
---
---
---
---