Concerned about the Coronavirus? Contact us to discuss our new FREE CANCELLATION POLICY & book with peace of mind Contact Us
5 things your child will take away from a summer camp in France
You're deliberating whether or not to send your child to our summer camp in France. You're not sure whether it's worth it and you're not sure what your child will get from it. Well read on. This blog is for you. We know it can be difficult deciding on how best to fill your child's summer holiday, but we are sure that the benefits your youngster will get from our French Summer Camp will make booking a place for them the right decision.
Better French
We would be disappointed if your child didn't leave our summer camp with a better understanding of the French language! After all, learning French is the main point of our camp. They will spend their week improving their spoken and written French and also get the opportunity to put it into practice in the stunning surroundings of Morzine in the French Alps. Our lessons are fun and engaging and if your child doesn't leave with an increased love of the French language then I'll eat my beret!
New friendships
Our camp in France is based in a school in a small village on the outskirts of Morzine. This fantastic building lends itself to the creation of friendships that last a lifetime. Whether your child makes friends in class, during free time or whilst taking part in one of the amazing activities on offer, they're bound to leave camp with plenty of new names on their list of mates. Friendships formed at summer camps tend to last because the children have shared fantastic experiences together and created memories that last a lifetime. They'll never forget their adventure at summer camp in France.
More confidence in staying away from home
Sending your child to a summer camp in France is a great way to help them feel more self confident. They'll also feel more able to look after themselves away from the comfort of their own home. Summer camp is great for this because the children feel independent whilst at the same time being in a safe and supervised environment. Perhaps your child is a little nervous when staying out for the night or perhaps they haven't had many opportunities to stay overnight away from home. Either way, at summer camp, they'll be required to look after their own room and sleeping space, they need to look after their own belongings and they also need to look after themselves. It's a great stepping stone to giving them more responsibility in a safe way. Your child will love their new found independence!
A better understanding of French culture
We spend a lot of time out of the grounds of our summer school in the surrounding towns and villages. We are based in a little village called Essert la Pierre which is on the outskirts of the beautiful alpine town of Morzine. Not only will your child develop their French whilst they're with us but they'll also develop a better understanding of French culture. They'll find out more about the food and drink of this particular region, they'll spend time exploring the countryside that makes the area special, they'll spend time looking in shops and supermarkets and they'll have plenty of opportunities to speak to the people who live and work here. Our region is known for its delicious locally produced cheeses and fantastic cakes and pastries- don't worry we'll make sure your child gets to taste some and bring some home! It's all part of the learning after all!
New games to share with their friends!
I remember spending time at various summer camps when I was little and one of the main things I brought back from these amazing holidays were new games and songs that I learnt from the staff or from my new friends. Children on our summer camp have plenty of free time to enjoy each other's company and there are always games and activities taking place around the grounds of the summer camp. Our activity leaders are full of energy and enthusiasm and come from all over the world. With them, they bring fantastic ideas. Your child will love coming home and teaching their school friends all their newly learnt games.
---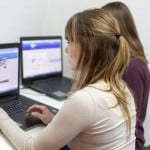 If you're thinking of ways to keep up your French or your children's French during this period of confinement, lockdown or social distancing, then you might have thought about Skype or Zoom lessons.  However, if you've never taken a virtual lesson before, then you may wonder what it's like and…
Continue Reading
---
---
---
---