French Residential Courses in France
French Residential Courses are a great way of improving your French in a short space of time. What better way than being immersed in the language day and night to make real progress? Just think, even if you study French at school, college or in an evening class, you probably do a couple of hours of French a week……by taking a residential French course in France, you could be speaking and listening to French up to 16 hours a day (assuming you need 8 hours' sleep, however you might need more as learning a language can be tiring!). In any case, you will be spending a lot more time studying, listening to and speaking French than is ever normally possible!
But there are so many French Residential Courses in France, where should you start? Well let's break this down into 2 sections: courses for adults and courses for teenagers.
If you are an adult reading this blog and booking a course for yourself, you need to think about the following questions:
Do you want to be fully immersed in French or would you like some time to relax outside of the immersion environment?   The answer to this question may help determine if you would prefer to stay with a French host family (if you want to speak a maximum of French possible during your stay), in a hotel (if you'd like to be looked after and maybe enjoy some luxury), in an apartment shared with other students (a great way to make friends and share your French learning faux-pas with!) or an independent apartment (if you need your own space).
Do you want to take a very intensive French course or would you also like some time to enjoy other activities? The answer to this question will help you determine how many hours of French classes you would like to take per week. Usually language schools offer 10h, 15h, 20h, 25h or 30h packages. Bear in mind that if you only study 2-3 hours a week at the moment, any of these options are fairly intensive!
What time of year are you looking for a French residential course? Are your holidays set at a certain time of year? Do you have an immediate professional requirement to improve your French? Do you prefer winter or summer holidays? The answer to this question may also help with number 4!
What area of France would you like to visit for your residential course? France is a vast country with different landscapes to offer! From beach to mountains, large cities to beautiful countryside, historic villages to wine tasting regions, there is really something for everyone. If you are a culture vulture, then Paris is the obvious choice with its abundance of museums, galleries and monuments to offer. If you prefer lazing in the sun, then one of the towns on the Cote d'Azur such a Nice, Cannes, St Tropez or Antibes is worth a look. Also the west coast of France offers great surfing beaches and the towns of Biarritz and Bordeaux offer great bases to explore along the west coast. Then there are the mountains…..if you like skiing, trail running, adventure activities, white-water sports, cycling, mountain biking, hiking then the French Alps are the obvious choice. With skiing and snowboarding in the winter from December to April, then a variety of other sports the rest of the year, for those who like sport and the great outdoors then the Alps are definitely worth a look.
The next thing to consider is how you would like to learn? Group lessons are definitely better value for money and a great way to meet other students. However, some people prefer private tuition and if you fall into this category, you could consider a mixed course with some group intensive lessons and some privates. Most language schools offer a combined formula such as 15 hours of group lessons plus 5 hours of private lessons per week.
And the last question is how long you can come for? Of course, the longer your stay, the more your French will progress. But most adults have families, jobs and commitments so much as they would love to be footloose and fancy free and come to France for a long period of time to really get stuck into a residential French course, the reality doesn't match the dream!
Alpine French School offers a range of courses for adults in the winter and summer. Based in the French Alps, just over an hour from Geneva, this allows easy access from most countries. The school obviously falls into the category of being a language school in the mountains; as such courses can include skiing and snowboarding in the winter and activities such as hiking, mountain biking, cycling, white-water sports, paragliding, trail running and much more in the summer.
If you are reading this blog for your children, then Alpine French School also offers residential French courses in France for children and teenagers.
Alpine French School offers Family French Camps in July and August.
Children from 5 to 17 years of age take French lessons in the morning with groups organised according to age and level including exam preparation courses. In the afternoon, they can either enjoy activities with their new friends or regroup as a family to enjoy the Alps as a family. With activities such as tennis, mountain biking, swimming, cycling, mountain biking, paragliding, white-water rafting, hiking, canyoning, climbing, adventure park, summer luge and much more, there is never a dull moment. A variety of accommodation options are offered including independent chalets and apartments, apartments shared with other students or hotels. Adults have the option of taking an intensive French course every morning. Read more about this here and watch this video which gives an insight into what the Family camps are really like.
If you are looking for a French Summer Camp for your 11-17 year old and would like to send them alone or with siblings or friends, then Alpine French School also offer a residential French course for teenagers with 24/7 supervision. In the mornings, students enjoy fun interactive French lessons including exam preparation if appropriate. Lunch is eaten with other students with French conversation with our activity leaders. Afternoons are filled with adventure activities before a little free time to relax and call family and friends after a busy day. Dinner and evening activities are also included ranging from ice-hockey matches to film nights. Weekends are more relaxed with full day activities and excursions to continue French learning outside of the classroom. Full-board accommodation is included and an airport meet and greet service can be included. Read more about this here and watch this video which gives an insight into what the residential French camps for teenagers are really like.
---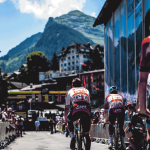 On Saturday 15th July the Tour de France will arrive in Morzine. The Tour will depart from Annemasse on Saturday morning and head towards Samoëns. From there, the riders will have to conquer the winding road to the Col de Joux Plane, at 1691 m altitude, that separates the valleys…
Continue Reading
---
---
---
---