Budget Conversation Classes on Zoom!
Conversation Classes on Zoom
Being able to have a conversation in French is most people's number one motivation to take lessons.  Get all the tools you need in just 2 x 5 hour modules!
Module 1 : The Conversation Toolbox
Regardless of your level, there are tools that you need before you can hold a conversation that is longer than a couple of awkward sentences!
French pronunciation: have you ever tried to talk to a French person and you are sure you are saying the right word, but maybe you just aren't pronouncing it correctly?  Learn the basics to make yourself understood and learn to identify sounds and familiarize yourself with the somewhat unreasonable French pronunciation rules!
Listening skills: it's all very well to be able to speak some French but highly frustrating when they speak back to you and you can't understand what they are saying… The above pronunciation tips will help but we can also help you with practice and simple techniques to improve your understanding.
Linking words: do you find yourself wondering about all those little words that you keep hearing and have no idea what they mean because they are part of the colloquial French that most people speak in everyday conversations.
Vocabulary: well, let's face it, a lot of human conversation (well, French conversation anyway) is about giving your opinion, justifying why you did or said something, arguing, making a point, disagreeing (and sometimes agreeing haha!), asking clear questions. You need this part for your daily French life!  The more words you know, the more you can understand and the more you can speak.
Module 1: 5 hours:
Thursday 8th April: 14:30-15:30
Monday 12th April: 14:30-15:30
Thursday 22nd April: 14:30-15:30
Monday 19th April: 14:30-15:30
Thursday 22nd April: 14:30-15:30
Price: 40€
Module 2 : Juggling with the tools! *
It's now time to get going and play with the tools you have learnt in more real-life situations.  This module gives you the opportunity to practice your new conversation skills before trying them out in real life!
Try out some real-life situations in French with some authentic role-plays
Have the opportunity to speak freely and have your French adjusted and corrected (whether it be pronunciation, structure, vocabulary)
Take part in conversations on different topics
Initiate conversations with different roles, for example: "I am unhappy and want to complain about something" OR "I am the one dealing with the unhappy French customer/neighbour".
Learn to speak the French that French people speak!
Module 2: 5 hours
Monday 26th April: 14:30-15:30
Thursday 29th April: 14:30-15:30
Monday 3rd May: 14:30-15:30
Thursday 6th May: 14:30-15:30
Monday 10th May: 14:30-15:30
Tarif: 40€
*You need to have completed Module 1 to join this class
Classes will take place on Zoom because of the Covid situation.  So join us from wherever you are in the world!
Email us for more info by clicking here, or call us on 04 50 79 08 38
---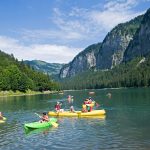 Summer in the mountains is a completely different holiday experience to your normal all inclusive beach holiday, in fact, it's better! Imagine – gorgeous views surrounding you, long days in the sun spent swimming in Alpine lakes or exploring the mountains on foot or bike, and finishing the day with…
Continue Reading
---
---
---
---